Overview of Batoi Academy
---
In this article we shall introduce you to Batoi Academy and the roles within it and their unique needs and responsibilities. Batoi Academy Platform is used by Batoi Education and Institutional Partners (EIPs) to offer training programs in software technologies.
Learn more about EIP
.
Batoi Academy - An Introduction
Batoi Academy takes pride in being a leading learning management system. Our mission is to guide organizations and individuals toward the frontiers of digital technologies and software development using Rapid Application Development (RAD). Batoi Academy is a catalyst, fostering a cycle of knowledge discovery and proficiency enhancement.
As a customized platform for mastering these advanced digital technologies and software development via RAD, Batoi Academy strategically orchestrates a spectrum of educational programs. The result is a vibrant learning arena that promotes interaction, instills creativity, and stimulates innovative thinking.
Navigating the Batoi Academy Workflow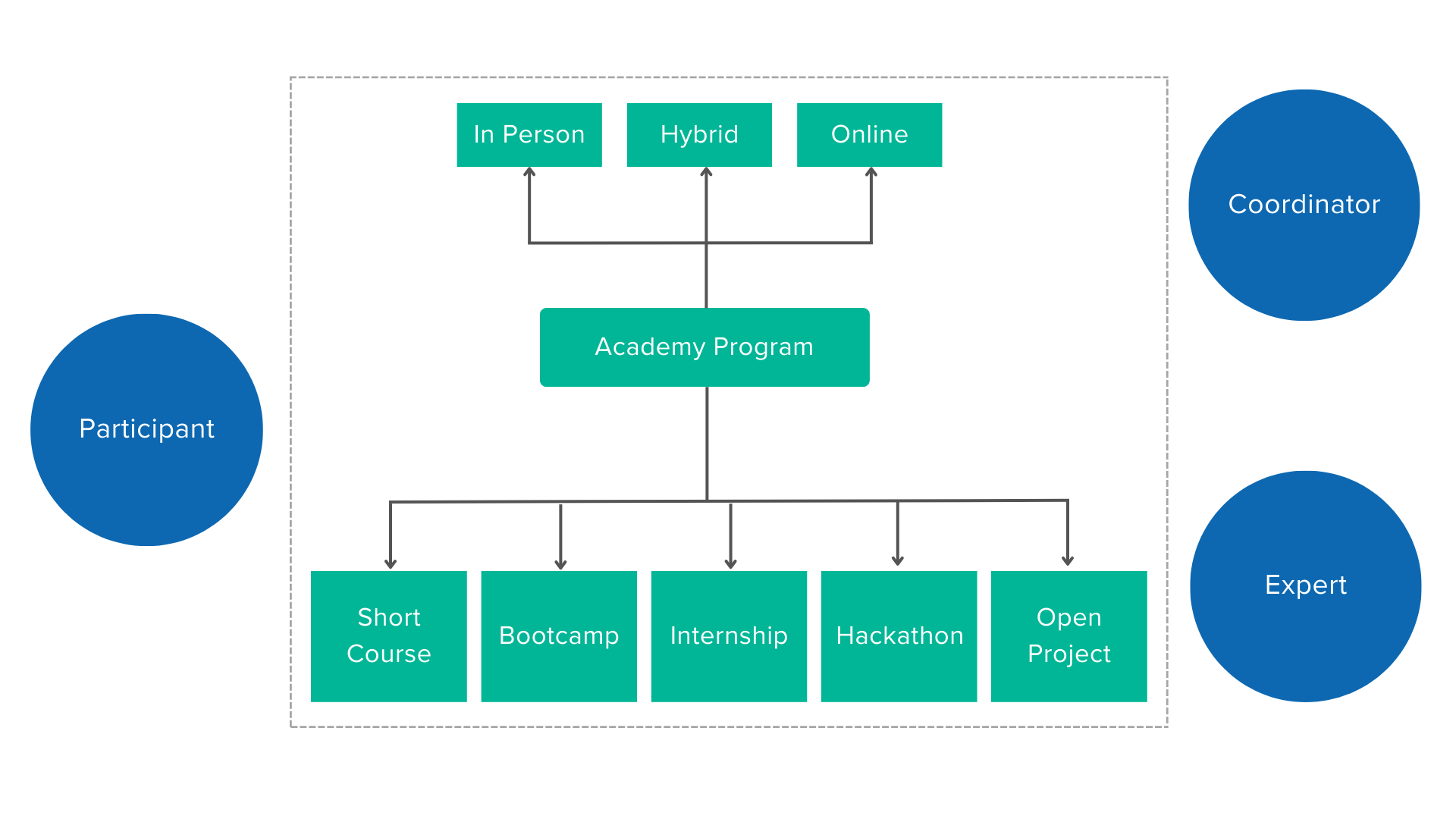 Deciphering Roles Within Batoi Academy
A journey through Batoi Academy introduces you to a series of dynamic roles – each meticulously crafted to address distinct needs and responsibilities. Specifically, you will encounter three vital roles: the Coordinator, the Expert, and the Participant.
The Coordinator is the program's backbone, ensuring its successful navigation, seamless operation, effective participant management, and the scheduling of activities. They are also responsible for posting news updates, moderating forums, and managing certificates within the learning environment, collectively fueling a thriving digital technology education initiative.
Meanwhile, the Expert, working in tandem with the Coordinator, determines submission standards and evaluates participant performances. The Expert plays a pivotal role in classifying participants according to their skills and contributions.
To delve deeper into the duties and processes tied to a program Coordinator's and Expert's role in the Batoi Academy and to acquaint yourself with the platform's rich features and capabilities, refer to our comprehensive guide: Video: Understanding Roles within Batoi Academy.
It is important to note that a Coordinator and an Expert can represent a partner organization. If your organization is interested in partnering with us, you can learn more here: Become a Batoi Partner.
A Participant at Batoi Academy can be part of an organization aiming to uplift its workforce or be a student of an institution eager to broaden their digital knowledge. Participants have the opportunity to apply for, engage in, and contribute significantly to a variety of programs hosted by Batoi Academy. Our offerings range from hackathons, seminars, certification courses, workshops to bootcamps, and internships – catering to learners of all preferences and backgrounds. Learn how to access course materials, spark enlightening discussions with experts and peers, attempt quizzes, and submit work for evaluations and certifications.
For a comprehensive overview of the Participant's experience within Batoi Academy, check out our guided tour: Video: Participant's Journey in Batoi Academy.
In summary, Batoi Academy extends beyond the boundaries of a conventional learning platform; it's your springboard to the universe of digital technologies and RAD software development. As you set off on this exhilarating learning adventure, remember, we're here to support you every step of the way. Welcome to Batoi Academy - where knowledge, skill, and innovation merge to shape your digital future!
---