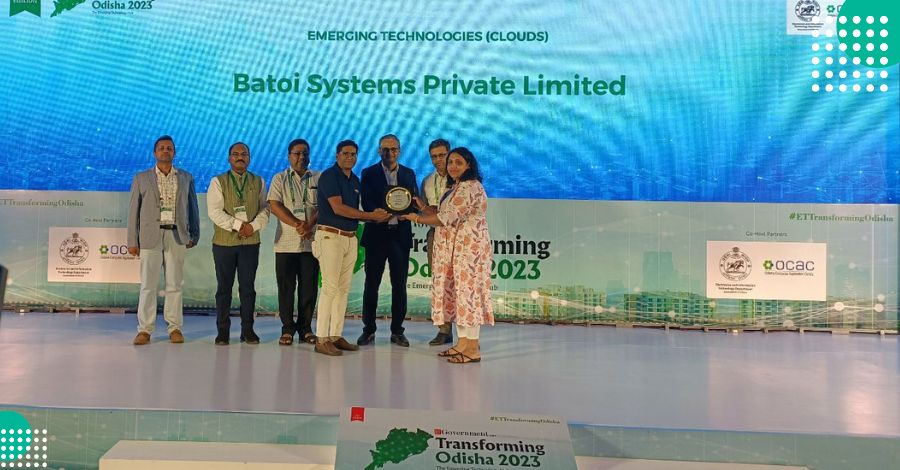 In a momentous achievement, Batoi has been distinguished with the prestigious STPI Exports and Excellence Awards, a testament to the company's tireless dedication and remarkable accomplishments in the IT industry.
This notable accolade bears witness to Batoi's significant contributions not just in terms of robust exports, but also in its role as a vital economic driver. Through generating substantial employment, fostering innovation, and bolstering the overarching economy, Batoi has played a pivotal part in the prosperity and growth of Odisha.
Key representatives from Batoi Systems Pvt Ltd were present to accept the award during the grand Exports award ceremony, which took place in Bhubaneswar on the 11th of May, 2023. The team expressed their profound gratitude and pride upon receiving this recognition, reflecting their unwavering commitment to excellence in the industry.
The award ceremony was a key highlight of the Transforming Odisha Conclave 2023, an esteemed event that brought together thought leaders, influencers, and visionaries from across the region. This gathering was meticulously organized by the Economic Times and co-hosted by the Department of Electronics and IT, Government of Odisha, in collaboration with STPI, the Software Technology Parks of India.
This award is a clear testament to Batoi's ongoing commitment to the IT sector and its role as a dynamic contributor to the socio-economic development of Odisha. The company's impressive achievement underlines its status as an industry leader, setting the bar high for future IT enterprises.