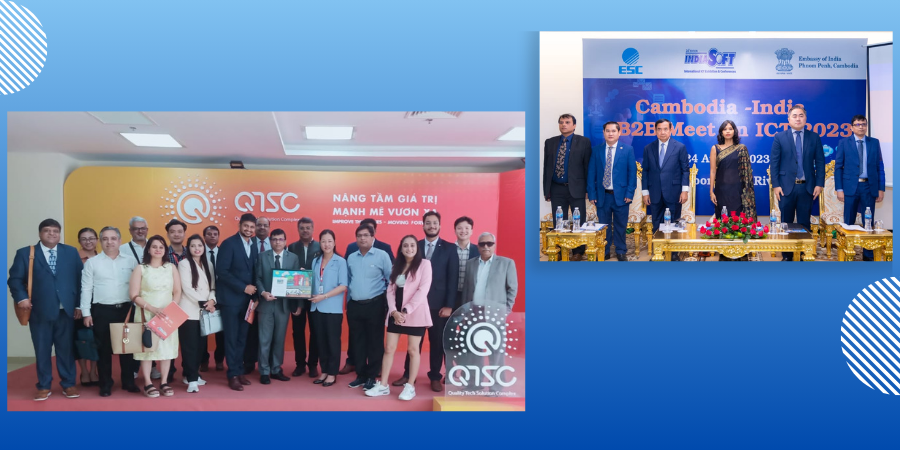 In an initiative by the Electronics and Computer Software Export Promotion Council (ESC) that marks strengthening business ties between India and Southeast Asian nations, Ashwini Rath, CEO of Batoi, led a delegation of 15 Indian business leaders to Vietnam and Cambodia. The delegation took part in crucial B2B meetings aimed at promoting collaboration between Indian Information and Communication Technology (ICT) companies and their counterparts in Vietnam and Cambodia.
The series of meetings commenced on August 21 and 22 in Ho Chi Minh City, Vietnam. Attended by a gamut of key officials, including Dr. Madan Mohan Sethi, the Consul General of India, and Mr. Dinh Vinh Cuong, President of the Vietnam International Entrepreneur Networking Club (VIENC), the focus was on establishing mutually beneficial partnerships.
A day later, on August 24, the delegation was in Phnom Penh, Cambodia, where they engaged with more than 80 Cambodian businesses. Prominent officials such as H.E. Dr. Devyani Khobragade, the Ambassador of India to Cambodia, and H.E. Mr. Sun Senghout, the Secretary of State, Ministry of Industry, Science, Technology, and Innovation, Kingdom of Cambodia, were present.
Ashwini Rath, while addressing the audience, emphasized Cambodia's strategic importance in India's foreign relations and trade prospects. He stated, "We perceive Cambodia's growing economy and manufacturing capabilities as a significant value addition to the Indian market. India has made substantial advancements in digital technologies. It is worth exploring how we can synergize our product offerings to contribute to regional and global economic frameworks."
These meetings signal a shift in the perspective of international collaborations in the IT sector. Both Vietnam and Cambodia are emerging as key players in the global tech ecosystem, creating opportunities for companies like Batoi to foster innovation and expand their market presence. The events underscore the potential for cross-border partnerships and highlight how Southeast Asian nations are increasingly important contributors to the global IT landscape.
By engaging in these strategically significant B2B meetings, Batoi and its CEO, Ashwini Rath, have reinforced their commitment to forging new alliances and highlighted the role that Indian ICT companies can play in a rapidly evolving global scenario.
These collaborations will catalyze further ventures, ushering in a new era of technological innovation and mutual growth for all parties involved.