Availing Technical Support from Batoi
---
The Batoi Priority Support Team is responsible for technical support for enterprise customers through online tickets, remote help tools (like Google Chrome Remote Desktop and Zoom), and telephone.
Online Tickets
As a customer, you can raise Tickets to alert us about an issue or problem you wish the Batoi Support Team to address.
Why Create an Online Ticket?
Online tickets allow you to report problems or ask for help/action on specific issues to experience seamless services.

It is a system of records that helps you keep track of your issue from your customer panel at any time. As details and responses related to the issue are recorded in the ticket system, you do not need to repeat your problem or re-explain it again and again to different customer support personnel - a common problem when you miss a conversation over the phone.
A request is automatically moved to the relevant department, which ensures speedy resolution of the issues.
The ticket system is easy to access as you can raise tickets directly from within your customer panel anytime at your convenience. As it is a written and registered complaint, you are always informed of the updates until it is resolved.
It gives visibility and clarity to your issue, as you can include screenshots or multiple attachments with a ticket to provide a more apparent description of the issue.
Who Can Create/View the Online Tickets?
Customers registered with Batoi can create/view the tickets using their registered email address (the email address used to create the customer account in Batoi).
Sub-users of the registered customers can create/view tickets using their registered sub-user email address (the email address that was used to create a sub-user account for a customer in Batoi ). They can create/view tickets based on the access rights provided to them by the customer.
View Tickets
Login to your customer panel. Click on the 'Tickets' menu to view the tickets created by you or the sub-users created under your account. The Ticket list page provides a graphical display of the ticket type (tech or billing), the date on which the ticket was raised, the Ticket ID (the unique identifier assigned to a ticket), and the Ticket Status.
Each ticket has a status indication. The available statuses are:

In Progress: This is the default status set upon creation.
Waiting for Response: After a response has been supplied by Batoi Support - either requesting more information or containing a possible solution - the status will be set to "Waiting for Response" - it is your turn to get involved again.
Closed: After the purpose of a ticket raised by you is met, the status will be set to "Closed".
Create a Ticket
To create a ticket, enter the details in the add ticket page in the requisite fields. You can also upload a file as an attachment to your ticket.
Once you create a new ticket, it is generated with a unique 'Ticket ID' (valid for future communications regarding the issue).
What Happens Next?
When your question has been resolved, you can close the ticket but still access it from the customer portal. The ticket automatically moves to the relevant department, and we shall respond. If we need more information or if we submit a reply to your query, you will automatically receive an email notifying you about the ticket update.
Remote Support
If you would like to get quick assistance and have a technical consultant help you remotely on your desktop, when you encounter an issue, please contact through phone or ticket, and use remote help tools (like Google Chrome Remote Desktop and Zoom).
Contact Us
At Batoi, we are committed to safeguarding and respecting your privacy. We communicate with our customers, business partners, and suppliers through a multimodal channel. It's easy to contact us if you have any queries. Call us or 'Write to Us' or 'Schedule a Virtual Meeting'. 'Write to Us' by providing basic information like 'First Name', 'Last Name', 'EMail', 'Phone Number', 'Company Name', Address,'Message', etc. To operate your account and deliver the goods and services you requested from us, we will only use the personal information you supply.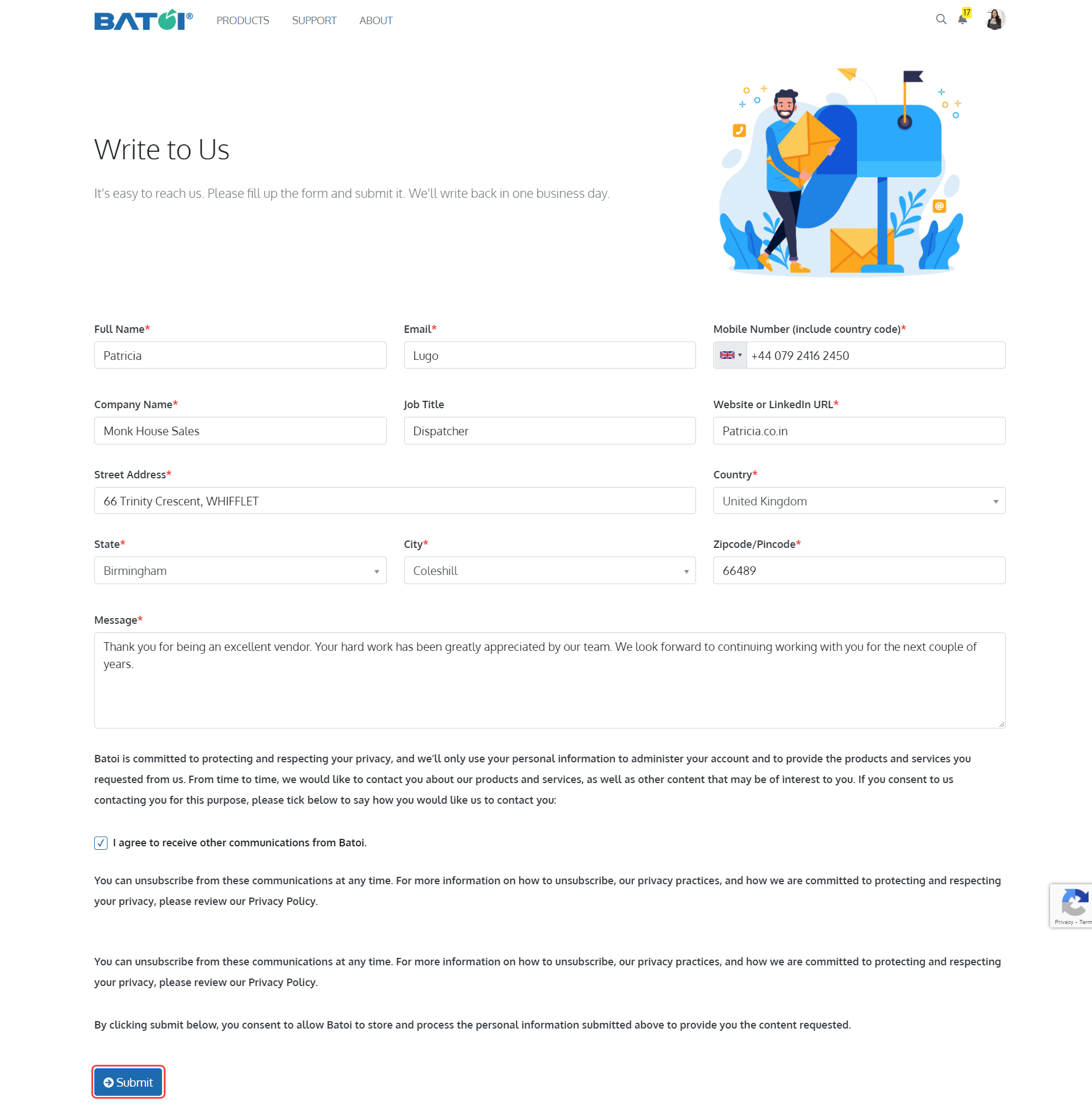 Schedule a Virtual Meeting
You can schedule a Virtual Meeting for a Product Demo or any reason for fifteen, thirty, or sixty minutes. Select a Date and Time, and select your Timezone. We like to have audio and video because it will make meetings run more smoothly. Details for Web conferencing are given after clicking "Confirm".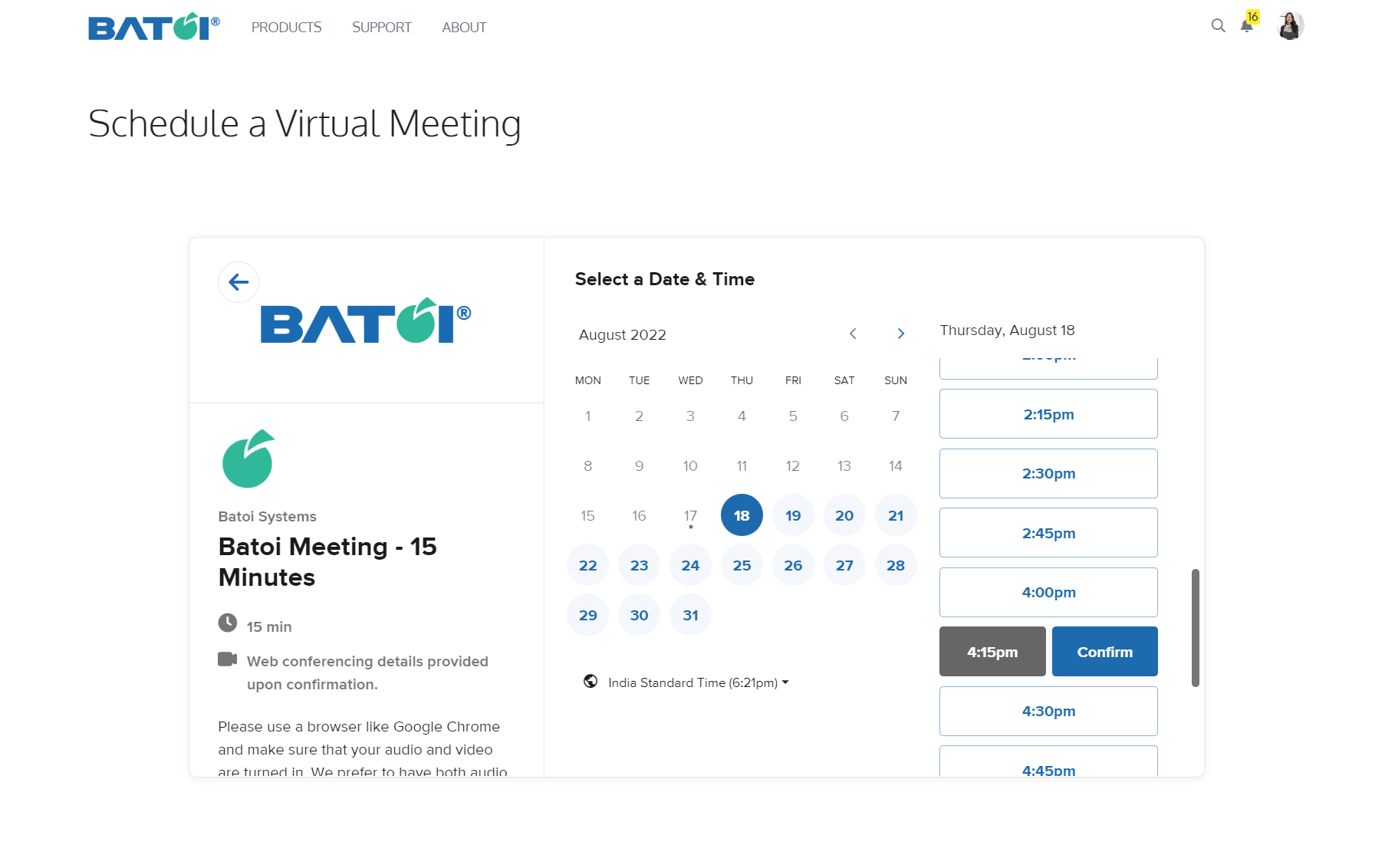 Enter basic information like 'Name' and 'Email'. Add and notify up to 10 additional guests of the scheduled event. Also, select The 'Objective of the Meeting'. If you don't find a suitable Objective in the list, mention it by selecting 'Others'. Please share anything else you think may help plan our meeting. Once you 'Schedule Meeting', a calendar invitation will be sent to your email address. If you no longer require the meeting or need to reschedule it, you can do so through the links provided in your mail.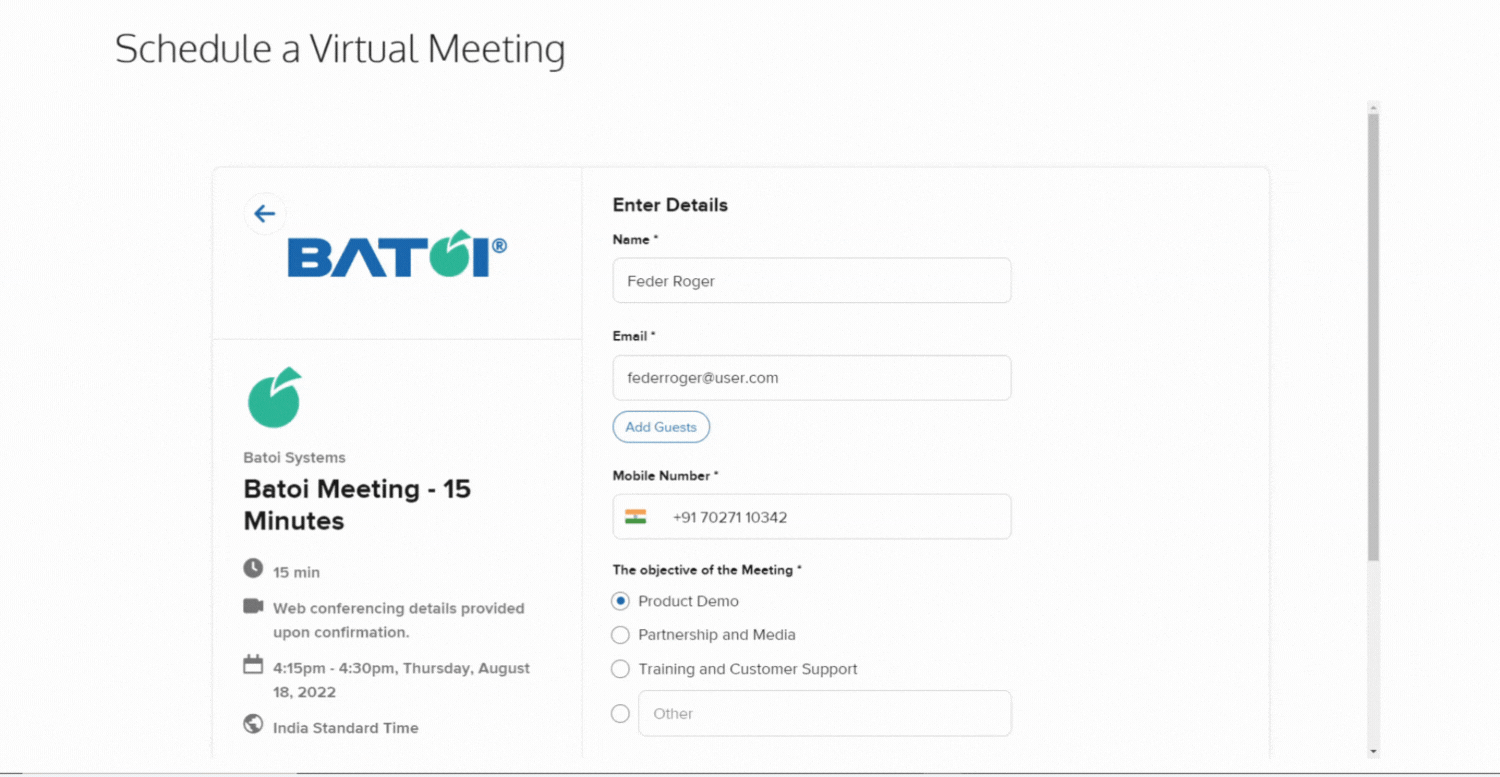 Request for Quote
You can 'Request for Quote' for a particular product or service by entering your 'Full Name', 'Email', 'Mobile Number', 'Your Organization Name', and 'Address' followed by 'Your Request'. You can also 'Attach File' for better referencing. Once you 'Submit', we will get in touch with you via Email or Call as we always look forward to understanding your business requirements and demonstrating our products and capabilities.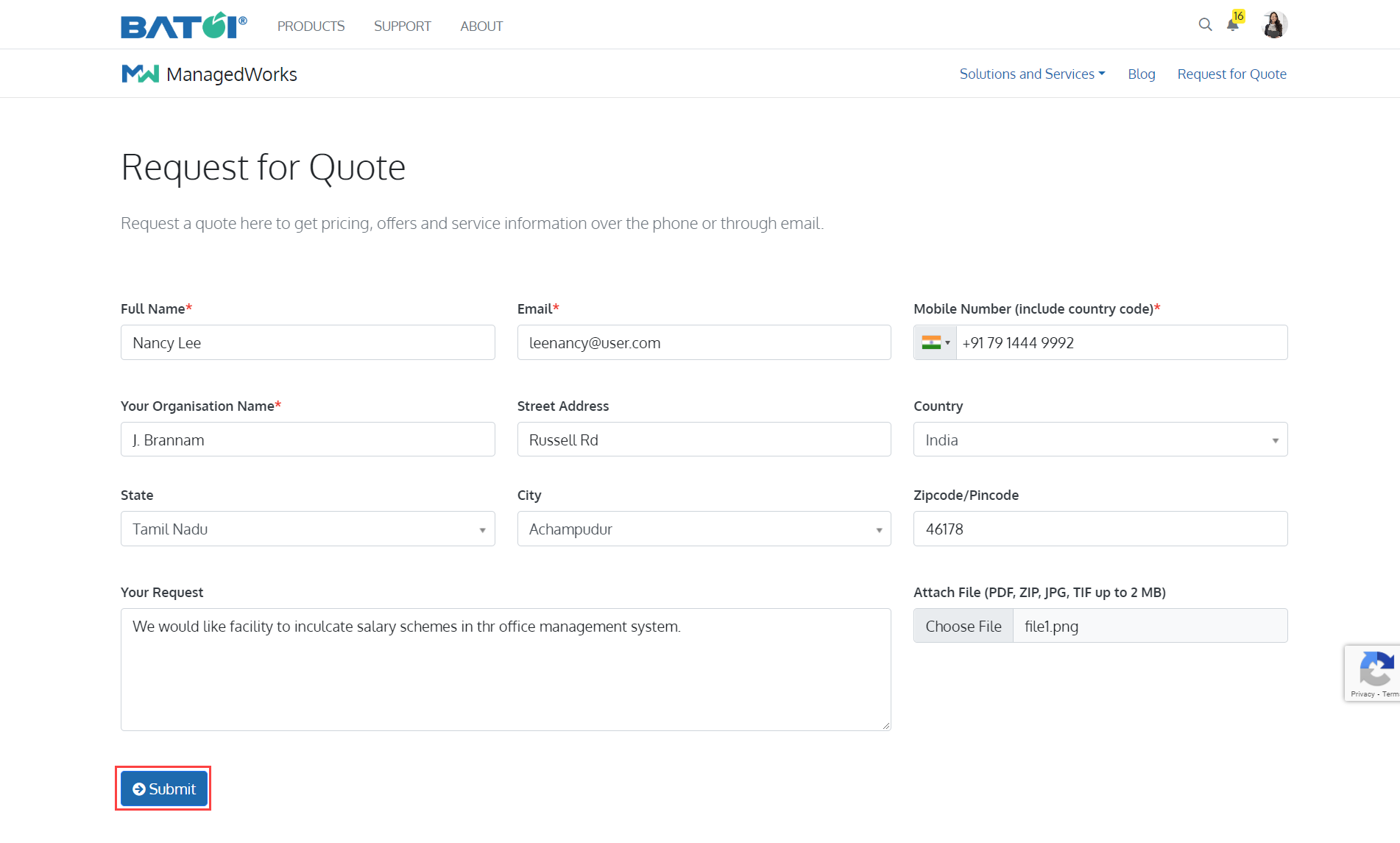 Submit Personal Information Enquiry
You can have your own Privacy Choices and Data Subject Rights. To contact Batoi's Privacy Team regarding a marketing privacy-related question, comment, or issue, fill out the form by selecting who you are in the 'I am' section. Provide basic information like 'First Name', 'Last Name', 'Email' and your address. Next, you have to select the 'Type of Request'. Additionally, be as specific as possible so we can comprehend your request and answer appropriately. Please include your country of work at Batoi and the Employee ID if you are a current or past company employee. Check Mark on the box to confirm that you have verified that the data you've given is factually correct and that Batoi has the right to get in touch with you to handle your request and confirm your identification. The Batoi Privacy Policy contains more information on Batoi's collection and use of your personal data, including information about accessibility, preservation, correction, deletion, security, cross-border transfers, and other subjects.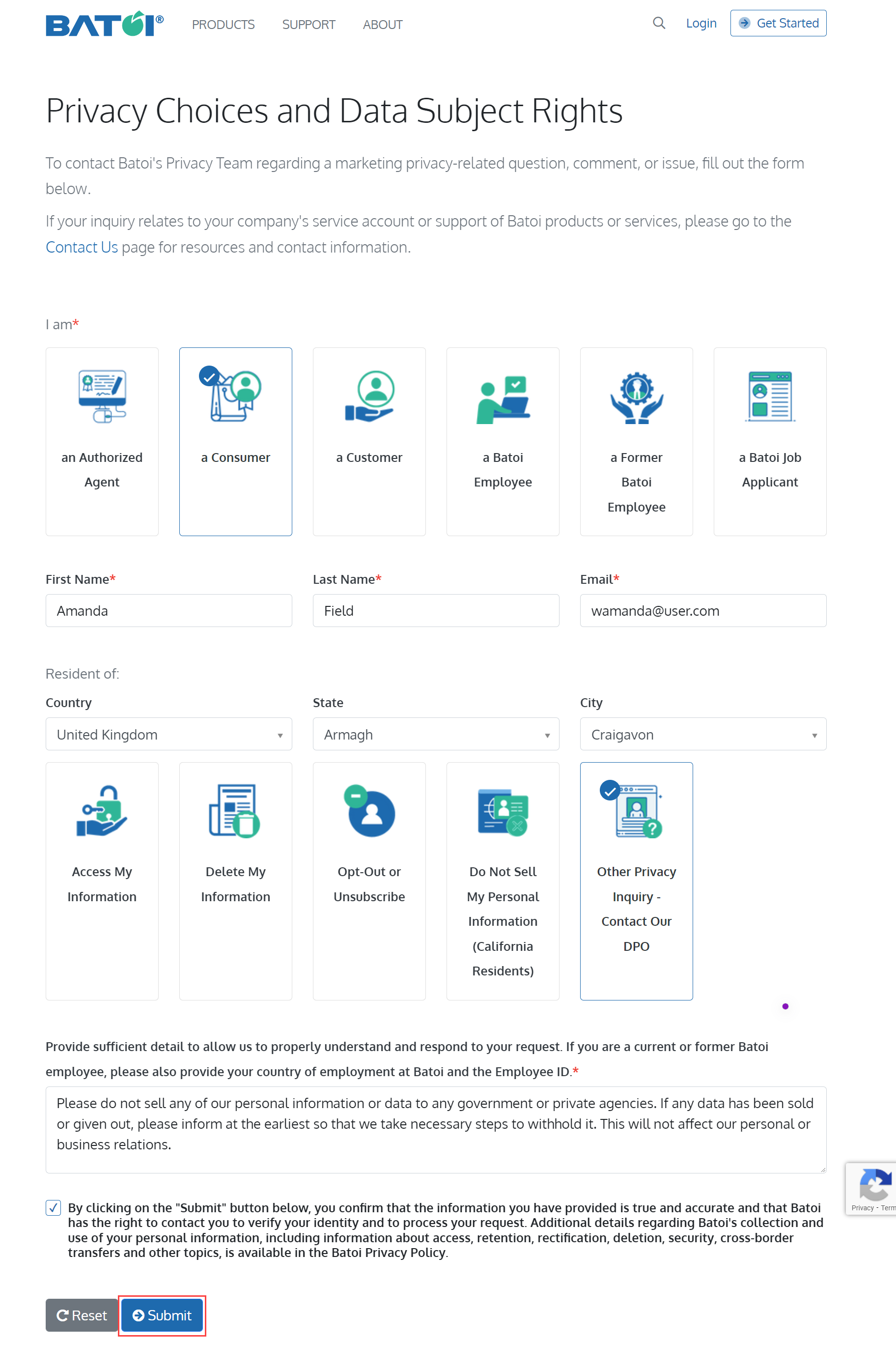 ---
---