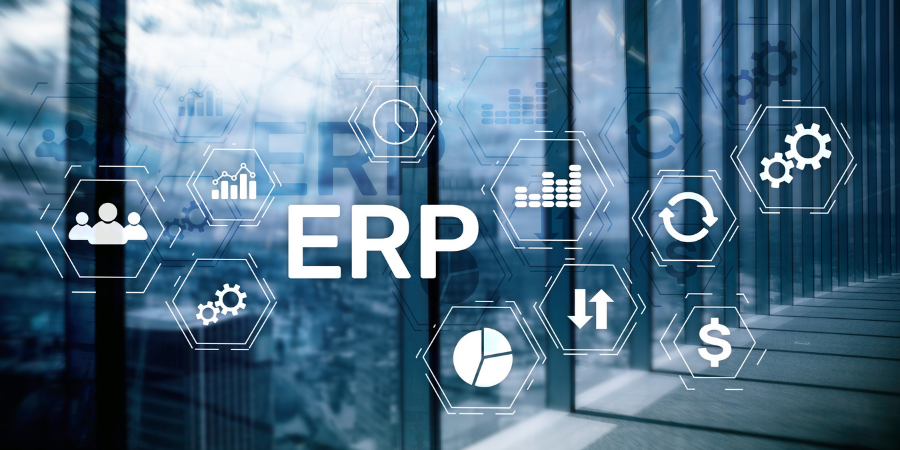 In the fast-paced and increasingly complex business world we live in today, many organizations are turning to ERP systems to thrive and succeed. But what exactly is ERP? And how could it help your business?
What is ERP?
ERP stands for enterprise resource planning and is a type of software that companies use to manage everyday business activities like accounting, compliance, project management, procurement, risk management, human resources, and supply chain operations.
Essentially, ERP systems centralize all business processes in one convenient location. By doing this, you get real-time visibility into all your business activities and can seamlessly manage costs, inventory, people, and more without switching between systems.
While in the past, ERP systems were clunky and siloed (they didn't talk to other internal software), today's ERP systems are comprehensive and fluid. Modern ERP systems not only connect with your internal data points but also integrate with productivity tools, e-commerce platforms, and even customer engagement software. As a result, they are a one-stop, everything-in-one-place solution to optimizing your operations and gaining better insights.
The Top Benefits of ERP Systems
Reduce Costs
While ERP systems can vary widely in price, opting for the right ERP can dramatically cut down on costs. How? Because ERP systems manage everything in one centralized location, eliminating the need for 10s of different solutions that could be costly.
Additionally, an ERP helps you streamline your business processes, cut redundant tasks, and reduce the time spent on labor-intensive manual processes.
An ERP can also help reduce specific costs, like inventory costs. The insights from the system ensure companies avoid common mistakes like stocking too much inventory (leading to higher overhead costs) or too little inventory (leading to extended customer fulfillment times).
Minimizing Errors (Data Reliability)
With an ERP system, you can dramatically reduce human error that results in incorrect or inconsistent data. With ERP, information only needs to be entered once, and data then flows through the entire system, where each department can access the data they need.
Enhanced Business Reporting
One of the significant benefits of ERP is improved analytics and reporting. Data analytics is the lifeblood of modern businesses in the digital age - it's what allows them to unlock the valuable insights hidden within their data.
Keeping track of finances can be complicated, especially for larger companies or those with a high volume of transactions. Managing these transactions quickly becomes overwhelming without an efficient, organized, and centralized system.
Scalability and Security
One of the significant drawbacks of having separate systems for each business function is issues around scalability. Many systems just aren't designed to scale as you grow. Luckily, most ERP systems are built with this in mind. Almost all ERPs are cloud-based and therefore benefit from robust security and demand-based scaling of databases and servers.
Customization
ERP systems typically have advanced customization options, so you can tailor the software (add or delete modules), depending on your specific business needs.
Regulatory Compliance
While some industries have to follow more stringent regulatory rules, almost all businesses have some form of compliance activities they need to manage. The consequences of falling short on compliance can be severe - think hefty fines and damages to your reputation.
ERPs systems can help you manage compliance by streamlining your internal processes and simplifying your data processing. In other words, you have much tighter control over where your data is and how it's being used.
Does Your Business Need an ERP System?
Traditionally, ERP systems were mostly implemented by large enterprises with vast and complex operations. However, over recent years, the market has started to shift. Today, we see far more small and medium-sized enterprises (SMEs) investing in ERP systems. But why are enterprise resource planning systems growing in popularity among SMEs? It comes down to the scalability and customization options of modern ERP systems. A small or midsized company can customize the ERP to do precisely what they need. Additionally, smaller organizations often find it easier to implement cutting-edge technology because they typically don't have decades-old legacy software to worry about. This means they can quickly mobilize to adopt effective cloud solutions that give them the competitive edge.
Modern ERP systems can also be very affordable for smaller businesses who only want to use the most necessary functions of the ERP.
Put simply, managing business operations, optimizing project workflows, and improving team collaboration aren't just the goals of large companies. Like their larger cousins, SMEs also face the same problems with siloed software across departments. With that in mind, SMEs stand to gain a lot by investing in an ERP system.