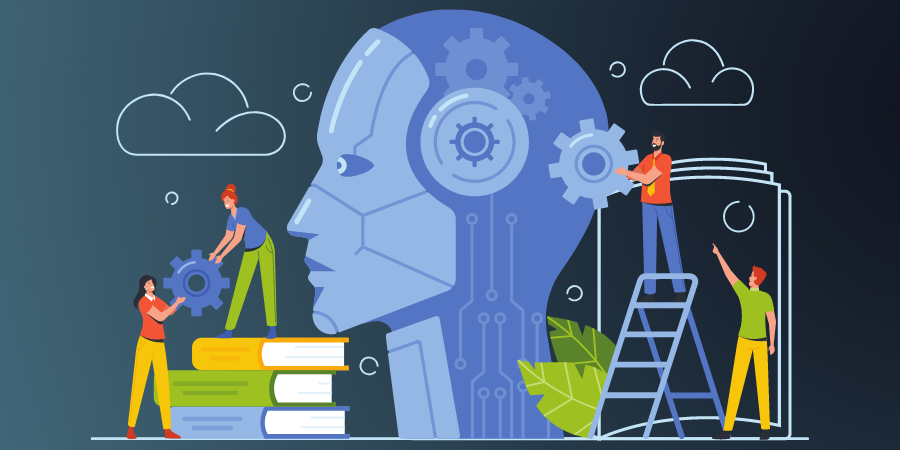 There is a massive buzz around RPA. RPA-led-automation can transform business processes. This technology can potentially change today's workplace as machines of the industrial revolution transformed the factory floors.
In an expanding business environment, it's optimal to arrange the appropriate systems in place to set margin's bandwidth across sales, customer services, auditing, marketing automation, and more.
Briefing RPA
RPA is a software technology allowing developers to design software robots that imitate human interactions with digital systems. These robots can easily comprehend what's on a screen, perform appropriate keystrokes, navigate systems, identify and extract data, etc. RPA has many advantages: process improvements, customer satisfaction, cost savings, speedy ROI, scalability, and the automation of repetitive business activities.
Though, enterprises strive to improve productivity for extended growth through automation. Productivity is critical to achieving a long-term competitive advantage and building up a better market position among rivalries.
This article explains how RPA and advanced technology contribute to business growth and productivity by performing multiple tasks simultaneously.
How RPA Helps to Grow Businesses
Improve Customer Experience
RPA robots can advance customer services in the following ways;
RPA advances processes and decreases repetition, which enhances customer satisfaction and loyalty.

By reducing or eliminating mundane tasks, RPA supports employees to focus and make meaningful customer experiences.

RPA solutions accelerate productivity and accuracy by streamlining workflows and completing tasks faster. Automated processes have fewer possibilities to make errors and aid businesses to meet customer expectations. In addition, RPA solutions cut down costs and increase revenue.

RPA solutions deploy best practices to maintain consistency in delivery services throughout the processes. They also make certain that customer information won't be compromised.
Measure and Optimize Customer Support
To manage customer engagement and technology-enabled business process, RPA automates customer services and measure their effectiveness in the following ways;
Increase Revenue: With intelligent virtual assistants, BPO can reassign teams and procedures or add new projects to extend operations, thus generating more revenue. Companies can attract new consumers with improved customer satisfaction and increase profits.

Velocity: The time it takes to execute an automated process is called velocity. RPA technologies enable BPOs to save time and enhance velocity by replacing manual procedures with RPA solutions.
BPOs can deploy intelligent automation for social media monitoring and respond to user reviews and feedback to meet their demands.
Enhance Critical Business Processes
Sales and Business Development - Sales teams always attempt to meet or surpass revenue targets. Building a solid network, generating and converting leads, and closing deals are parts of this process. Usually, sales teams spend much time on internal coordination and communication, market research, CRM updates, reporting, follow-ups, and administrative or operational tasks.
RPA is an effective tool to automate these activities, and it reinforces revenue-generating activities via automating time-consuming research and repetitive operations. It runs 24*7 and strengthens sales teams to seize ample opportunity irrespective of time zone.
Human Resource and Administration - The HR department has colossal paperwork from recruitment, onboarding, reviews, and payroll. To control this paperwork, organizations are using off-the-shelf or custom-developed apps to digitize these operations to some extent. RPA offers promising benefits for automating high-volume, repetitive operational processes with better response time, consistency, and efficiency. RPA can optimize and manage HR-related tasks such as recruitment and onboarding, data management and maintenance, payroll & expense management, employee management and attendance, and infrastructure maintenance schedules.

Information Technology - IT teams are required to serve a relentless focus on improving service quality, lowering risk, and controlling costs.
RPA plays a crucial role in streamlining critical IT operations, procedures, and support through end-to-end automation. For example, RPA can integrate several legacy systems, including CRM, MIS, ERP, and others, to provide 24x7 monitoring or manage updates.
By combining RPA and monitoring systems, IT teams can monitor various infrastructure metrics and take preventive steps such as initiating warnings or workflows when a threat is detected. RPA decreases potential human errors and response time, enhancing the overall quality of service.
Enhance Digital Transformation Journey
Agility is the responding key to a fast-changing technological and business landscape. With a robust digital mindset backed by innovation, meeting and exceeding organizational objectives becomes critical. Businesses must sense, understand, respond, and evolve for business excellence in the future.
RPA enables enterprises to build connected organizational processes via innovative collaboration, intuitive, scalable decision-making, actionable insights based on real-time analytics, and in-depth data visibility across core functions resulting in hyper-productivity.
Enterprise Security
RPA assists in the enhancement of organization security. For example, regular security checks, round-the-clock network monitoring, etc., can be automated to observe harmful activities on time and take appropriate measures against cybersecurity threats.
Additionally, RPA systems may apply security patches and upgrades when needed to ensure that your enterprise networks are not compromised. They also diminish unauthorized access and data breaches.
Coupling cybersecurity elements with intelligent automation aids in making a cyber-secure environment. Some activities like access control, vulnerability scanning, patch management, incident analysis, and security monitoring could benefit from Intelligent Automation to control and prevent increasing cyber-attack cases globally.
Chatbots and RPA
Integrating chatbots and RPA allows employees to shift from monotonous duties and focus on more creative and profound thinking activities. For instance, RPA and chatbots may automate operations by accessing regular transactions, approving purchase orders or employee leave requests, etc.
Additionally, speech bots allow employees to translate document work. These bots can provide you with support and information when required and help improve performance and productivity. The front and back office teams can invest time and efforts, saved by chatbots, in resolving sophisticated challenges, planning strategies, and establishing a vision.
Summing up
RPA is the future of industries. Enterprises should implement RPA technologies to understand business objectives better. If the available business processes and IT infrastructure are adequate, they can employ RPA automation as a user-friendly technique to achieve automation goals.
RPA can address issues even if the process, platforms, and applications are obsolete. Therefore, in the digital-driven ecosystem, RPA is critical for enterprises to nurture a healthy working environment.