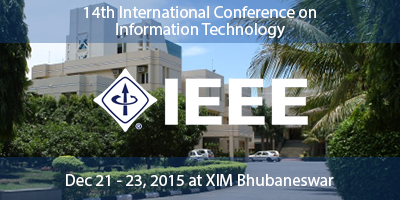 International Conference on Information Technology (ICIT) is one of the flagship yearly conferences for sharing high-quality research in the areas of Information Technology. ICIT-2015 is being organised by Orissa Information Technology Society (OITS) in collaboration with IEEE and XIMB-Xavier University, Bhubaneswar, India. This conference provides opportunities for delegates from different areas to exchange new ideas and application experiences face to face, to establish business or research relations, and to find global partners for future collaboration.
Batoi was one of the partners of the conference. During the conference, Batoi's Founder Director & CEO, Mr Ashwini Rath delivered a keynote address on "Batoi Framework".
Abstract
The framework exploits the multi-tier architecture of Internet, and is based on a robust foundation of data storage and access mechanisms. It provides an excellent and easy way to create adaptive applications that can be used across devices, and a comprehensive API suite to connect to other software systems and IoT sensors. The data management is controlled through different design patterns and Role-Base Access Control (RBAC) scheme. The open source nature of the framework boosts the interoperability of data and applications across computing platforms. In this talk and a brief demo, we shall introduce the core framework components, and their applicability in practical application development and deployment situations.