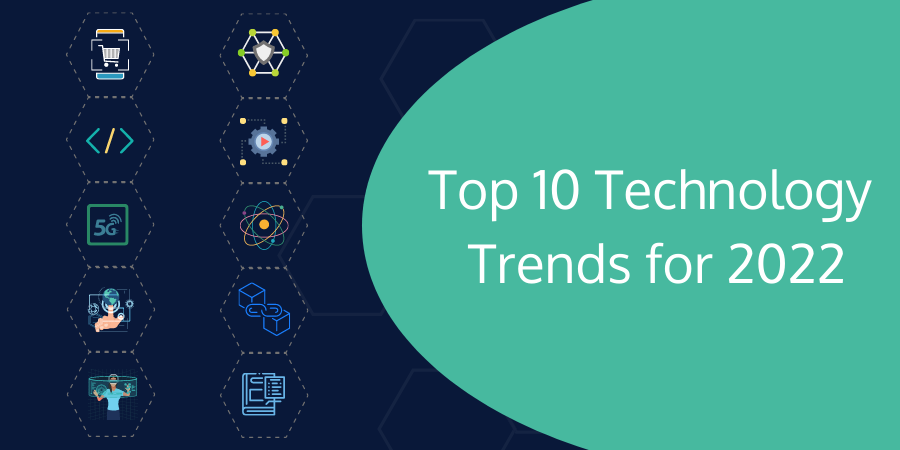 The new year is almost upon us, and the world is set to see many new technology trends to help drive digital transformation for businesses globally. What will happen in 2022? With constant change and a continued global pandemic, it is inevitable that many changes are on the way to accelerate innovation, and disrupt the market.
In this article, we will take a look at the latest technology trends to keep out for in 2022.
Trend 1: Augmented Reality Hits Online Shopping
It was only around twenty years ago that online shopping seemed like a concept. But now, we would be lost if we couldn't order our groceries, clothing or electronic gadgets directly to our door, especially when having to isolate ourselves at home due to COVID-19 restrictions. However, this has become the norm for many of us, and vendors are now focusing on improving the user experience by creating realistic 3D models of products, allowing buyers to experience the item before buying it, encouraging those who weren't so sure to convert to customers.
Trend 2: No-Code & Low Code Software
Creating an app was always for those with technical coding know-how that could only be afforded by large enterprises, causing significant barriers to entry for individuals and small businesses. But low-code and no-code software development platforms force more visual elements to build software-based applications, such as drag and dropping. This reduces time to market and opens up more opportunities for just about anyone to build cross-platform apps.
Trend 3: 5G Goes Mainstream
We are always seeking faster internet speeds, especially as 4K content is growing and 8K is just around the corner. With this type of content being produced, faster speeds and more reliable internet are required to stream the content without buffering. 5G in itself is a massive upgrade; it delivers 20Gbps at its peak with averages over 100Mbps. With 5G connections tripping globally in 2021, it will undoubtedly reach a wider market in 2022, with the US currently leading the way forward.
Trend 4: Passwordless Authentication
Passwords are becoming easier to break than ever before, even if they are complex and lengthy, and as AI and ML become smarter, it will become even easier over time. One way of mitigating the risk of lost and stolen passwords is to move towards 'Passwordless Authentication', especially on mobile devices, which currently stands at around 60% of the market when accessing web-based content. This shift will eliminate the need to change dozens or hundreds of passwords regularly, and mitigate against brute force and phishing attacks.
Trend 5: Virtual Reality for Everyone
As we have mentioned in previous trends, smarter AI and faster internet with 5G speeds will lead to VR (Virtual Reality) becoming more readily available and more realistic than ever before. In 2022 expect VR to pop-up outside of entertainment, and medical professionals set to use it more to simulate operations. Even remote workers using VR to take part in virtual meetings.
Trend 6: Cybersecurity Mesh
Instead of relying on a one-solution-for-them-all approach, a cybersecurity mesh enables stand-alone security solutions that are best-in-class to work together to improve an organization's overall security posture. A cybersecurity mesh allows for quicker detection and identifying threats across both cloud and non-cloud environments.
Trend 7: Hyperautomation
Hyperautomation is a multi-disciplined approach that merges process automation, connectors, and technologies that enables work to be automated through scalability, remote operation, and business process disruption. Starting with robotic process automation at its foundation, it encompasses AI, process mining, analytics, and other advanced tools.
Trend 8: Quantum Computing
Quantum computing has leaped forward during the current pandemic and has helped prevent the spread of COVID-19 and develop new vaccines. This fantastic technology takes advantage of phenomena like superposition and quantum entanglement, and is being used to query, monitor, and analyze data at super speeds, no matter where the source comes from. Quantum computers are now a multitude faster than traditional computers, and well-known large brands such as Microsoft, Honeywell, Amazon, and Google are investing billions in making innovations in the area of quantum mechanics.
Trend 9: Blockchain Technology
Many people associate Blockchain with Bitcoin and cryptocurrencies, but it is more than that. At its most superficial level, it can be described as a ledger that you can only add data to; you are not able to take data away from it or change it. This is where the 'Chain' part comes from, and you are making a data chain. When we can't change the previous 'Blocks', it is very secure and beneficial in many applications.
Trend 10: Privacy & Data Regulations for Advertisers
We have heard nine trends that focus on technology trends; this last trend is solely focused on protecting internet users' data by restricting ways in which ads are served, making life difficult for advertisers who rely on such data. Across the globe, lawmakers are designing policies with the sole aim of limiting the volume and types of data that are available to advertisers. With Google announcing that they will eliminate third-party cookies in Chrome by 2022, watch out for more of the same.
Many more technological innovations are expected to reach the market by 2022 but still are in their infancy. We could see these hitting the market in the latter part of 2022, with refined versions. Not only that, with such unpredicted times, new Coronavirus strains, and perhaps more lockdowns on the way. It will undoubtedly be another exciting year for technology globally.