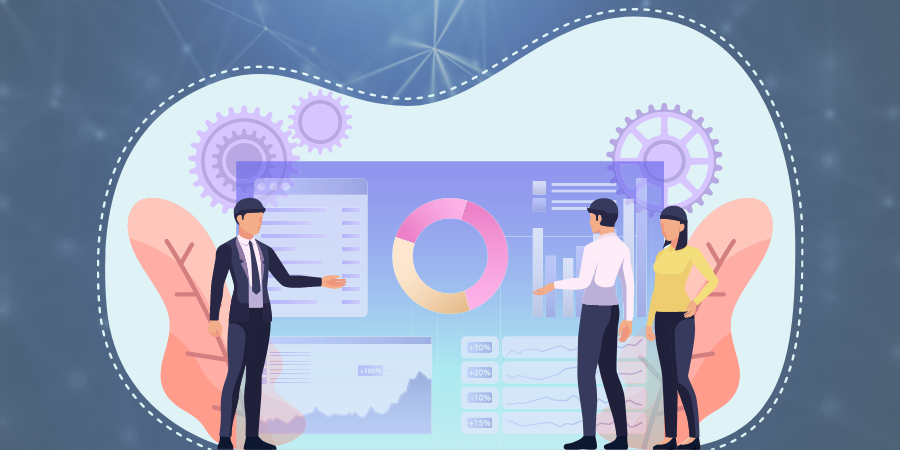 Introduction
The procedure of determining the growth/life of a new product or service through research conducted with potential customers is known as market research. It helps organizations reach the target audience and obtain feedback about a particular product or service. Essentially, market research assists companies in keeping pace with changes as the customers' viewpoint changes.
The requirement of actionable and more robust customer insights aligned, being economical and timebound, is what today's business demands. Similar behavior accelerated during this pandemic.
There is an imminent need for a bigger transformation to drive market research with technology at its core.
Technology has accelerated traditional market research domains making them more prominent and streamlined with innovative approaches. Presently, the average market research involves automation, artificial intelligence, machine learning, advanced analytics, etc., in its procedure. These technologies are used globally to obtain in-depth consumer insights, helping in understanding changing consumer behavior.
What Are The Technologies Supporting Market Research?
Here are the key factors facilitating a transformation in market research practices;
1. Automation
Individuals seeking deep insights have benefited from automation as it reduces the time in introducing a survey in the field and obtaining valuable customer responses. For example, automated market research can finish the final product that took weeks to complete now can be finished in a few hours through automated market research.
The market research process has also been improved through automation, making survey research more reproducible. Instead of rewriting the survey each time, firms may gather feedback on innovation concepts or test by entering a few simple parameters into a templated online survey.
2. Artificial Intelligence
Through social media and digital technologies, larger and more complex datasets are available to analyze faster. For instance, AI-enabled market research tools can analyze data to deliver in-depth and detailed insights and identify customer behavior/requirements trends.
AI can identify different patterns in data, draw comparisons with diverse data sets and anticipate how data would behave in other circumstances. With AI, marketers can analyze higher volumes of data cost-effectively, offering new opportunities in competitive research and meta-analysis.
3. Data Collection and Advanced Analytics
Market research starts with data collection to draw insights. Traditional methods of document surveys are time-consuming and prone to data loss and errors. On the other hand, advanced data collection software has real-time connectivity for instant data sharing that is less time-consuming and error-free.
Additionally, analyzing data is as paramount as data collection. Marketers need to ensure data analysis methodically with an increased data collection rate. With technological advancement, data analysis has become easier and quicker. Companies are strengthening and maintaining customer relationships effectively with advanced analytics, assisting in customer retention.
4. Virtual Assistants and Chatbots
Virtual assistants (Alexa or Siri) have a significant advantage over Google Analytics or other reporting software for real-time data collection. These assistants can retrieve extensive information based on specific voice inquiries in a few seconds, such as the number of website visitors in a week or the average time users spend on a particular webpage. In addition, an interactive chatbot can collect data from millions of users with minimal human intervention. Chatbots enable users to answer survey questions on their mobile browsers than to download a separate app. Also, chatbots can be programmed to provide users notifications whenever a new survey is available.
5. Blockchain
Blockchain is still in the race to become universally acceptable, yet as the means of data sharing and collection, it is being utilized in market research innovatively as the means of data sharing and collection.
By introducing a blockchain, data can be compiled and distributed instantly over a complex network, including all members with equal access. Blockchain can allow researchers and customers to collaborate through a two-way data sharing process instead of data collection.
6. Social Media
Social media is revolutionizing how people engage and communicate globally and impacting business and communication. Sustainably, market research has changed dramatically with the introduction of social media. LinkedIn, Twitter, Facebook, and other social media platforms are witnessing the massive transformation of this industry. Users find social media to be exciting as it serves as an open and transparent data platform. Market research can collect useful data to help brands and enterprises better understand their customers without jeopardizing user privacy or other confidentiality requirements.
Advantages of Using Technology in Market Research
1. Improve Audience Reach
Market researchers can now communicate with clients globally due to technological advancements and provide them more flexibility such as how, where, and when they conduct research. It also gives users the ability to respond to surveys and provide feedback conveniently.
Technology also allows researchers to leverage new demographics and cultural groups to explore their geography that was previously impossible to reach.
2. Cost-effective and Quick Processes
With innovative research techniques, data may now be collected faster than ever before, allowing individuals to react swiftly from their preferred devices.
Researchers can also save a lot of money by conducting field research online using a simple survey form rather than sending out large teams to do field research and gather on paper investigations.
3. Enhance Data Quality
Data collection alone is insufficient. Sometimes, a portion of data will be irrelevant or erroneous, or the data filtering process to get relevant information is highly likely to cause human errors.
Machine learning algorithms can analyze all the data more accurately and bring out what is necessary to business and customer requirements.
Wrapping Things Up
The developments in a new age of marketing are exemplary, and professionalists are working hard to make marketing prompt with our day-to-day life.
Technology is the one major factor or tool that companies use to reach the target audiences. Coupling technology and market research, industries have achieved significant milestones.
We have come so far that multiple channels are available for marketing other than print media only. With the emergence of technology, the concept of market research has witnessed a significant revolution.
However, market research is still in the transitional phase and is evolving exponentially. As the demand for high-quality consumer insights grows with time, market research will embrace technology in new and effective ways.