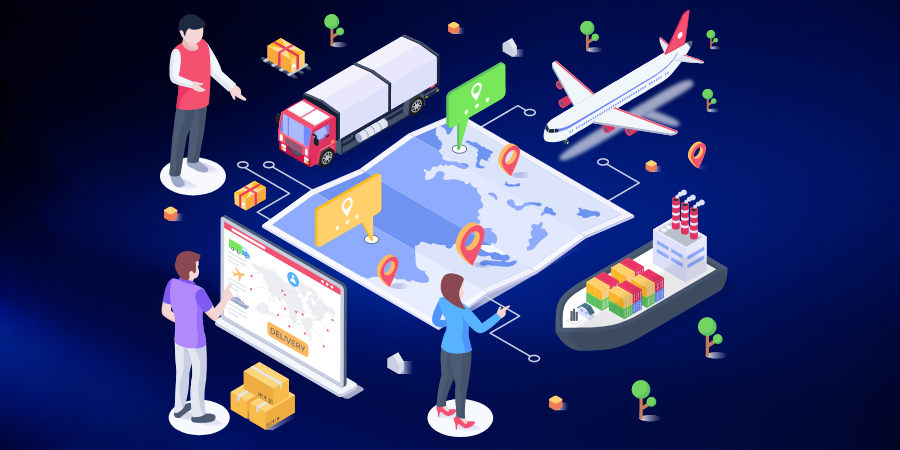 Introduction
One of the effective ways of serving a company's customers is through strategic supply chain management. Even with the evolution of digital realms and technology, the global network of supply chains has become more efficient. All the different products & packaged goods filling supermarket shelves to the integrated circuits running our smartphones come through a systematic supply chain. Thus, supply chain applications are in huge demand in the market. The expected Supply Chain Management (SCM) software market is hovering to grow by 9.45 billion USD during the tenure of 2021 to 2025. As per the forecast, it will render a CAGR of 11 percent (approx.). This article is a quick walkthrough on supply chain management, SCM software, and its importance.
What Is a Supply Chain?
The supply chain is a process that includes different activities, organizations, people, technology, data-driven approaches, and resources. All the processes like accumulating raw materials, packaging, production, warehousing, shipping, and delivery come under the supply chain. All these work in close tandem to move various items from their manufacturing source to the customer.
What Is Supply Chain Management (SCM) Software?
It is a software, platform, or program that caters to a set of tools to help in streamlining and driving the end-to-end supply chain operations of different products or items. Such software also leverages data analysis and data-driven algorithms to assess product demand and forecast supplier relationships with the market. SCM software can also make synchronized decisions by integrating the facts and values obtained from integrated warehouses, suppliers, retailers, and customers.
Benefits of Supply Chain Management Software
Running a retail or wholesale business requires supply chain management software that can keep track of factory to warehouse, warehouse to store or store to consumer of all items.
The company running such a business cannot perform data tracking manually as it takes time and effort. Here is a list of different benefits; supply chain management software caters to in an organization.
Cost Reduction: Every business wants to run with minimum cost and maximum benefit. Keeping track of all the data associated with the warehouse, factory, or store under one central location benefits the owner to understand the stock and demand of each item. Supply chain management software helps spot the wastefulness & eliminate it, which ultimately lowers the costs. SCM software does this without even changing the way your business works. SCM software keeps track of each item or product, finds errors in any supply, and suggests improvisation.
Profit Growth Analysis: With the ability to comprehend what costs to cut back or on which product or item to focus on, companies can invest in reducing overhead costs that can ultimately boost the business revenue. What's actually incredible is that businessmen do not have to think or analyze. The software will suggest which item to add as a warehouse stock & which one to discard for how many months. With Supply Chain Management software, businesses can start assessing processes, stages of delivery, analyze storing strategies and keep metrics of the expenses and variables.
Analyze and Improve Product Quality: By comprehending the availability of items in the inventory, business owners can more efficiently calculate and coordinate the supply, shipments, and storage. Supply chain management software renders a higher efficiency rate - meaning the business owner will not find themselves suddenly running out of stock on specific items. Having an effective SCM software and process in place also enhances product quality. It is because the owner can think and analyze which product quality is leading the market and accordingly fill the warehouse with that.
ML and Report Generation with Visualizations: Modern supply chain management software comes with report generation and analyzing abilities. Cloud-based SCM tools are robust as they leverage machine learning and AI to interpret the different patterns on how the customers of wholesale market is absorbing a product or item. The data associated with the inventory, warehouse, stores, to customers gets analyzed through such ML algorithms - that can effectively suggest to the business owner which product is ruling the market. Also, such data automatically determines which product to reserve for the upcoming month in the warehouse to stay ahead in the competitive market. SCM tool can render all these reports and analyses in your software's dashboard as visualizations or get in a printed form.
Conclusion
We hope this comprehension has given you a clear idea of supply chain management and why to implement supply chain management software. There are various other benefits and impacts SCM tools can provide when used by a business. Maintaining proper supply chain management can benefit financially through effective process delivery and improves the organization's reputation.