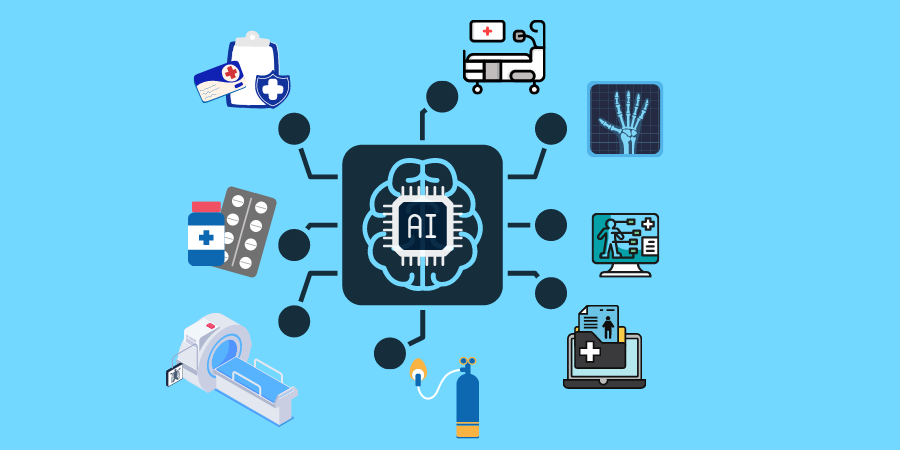 Introduction
In the technological era, where swift development of edge-cutting computing power, memory storage, unprecedented stock of data, and progress in advanced algorithms, AI has led to an extraordinary breakthrough. Artificial Intelligence, or machine intelligence that can sense, think, and respond similarly to human beings, is widely used in diverse fields such as computer vision, voice recognition, education, healthcare, etc.
On the same pattern, AI has evolved as a revolutionizing step in the field of medicine, drug discovery and development, and pharmaceuticals, simply by dragging out invisible patterns and confirmation from medical data.
In medicine and healthcare, Artificial intelligence has remained a sizzling topic for many years. While AI enfolds the massive potential in medicine, it is around with the buzz of losing "human-touch" in terms of individual professions, not necessarily. Still, it reduces the efforts of one's focused engagement.
If accounting the advantages of deploying the AI in medicine;
It comes out with accuracy, efficiency, and precision,
It reduces the work-load, expands patient care timing, improves time in critical cases, and
It is cost-effective and provides better monitoring.
This blog tells how AI can be used in medicines along with applications of examples and learn how AI is aiding doctors in making diagnosis easier.
Role of Artificial Intelligence in Medicine
Medicine is among the rapidly spreading and sustaining application realms with specific challenges.
In the context of applying technology for handling medical data, AI can be used to handle missing data, like, while working with 2D and 3D medical images data. AI could assist in promoting patient survival estimations by deploying tree-based algorithms (AI models) that indirectly support doctors.
In recent years, AI has been reconstructing medicine's practice. It supports doctors in diagnosing patients more precisely and in deciding prophecies concerning patients' health in the future and can recommend suitable treatments.
AI can help diagnose illnesses from x-rays, CT scan to 3D MRI brain images; it predicts the cure-effects on patients by deploying data from randomized trials. Also, with the help of NLP, it makes tasks automatically label medical data.
With the help of a massive amount of medical data, AI can be implemented from determining diseases and medicine to therapeutics and recognizing targets with minimal errors.
Since medical treatment could impact each patient differently, depending on the existing health conditions, AI algorithms/models) are considered a powerful tool for prognosis where the prognosis is a part of medicine that practices in estimating future health possibilities of patients.
Applications of AI in Medicine
Cardiology: Under cardiology, through using electronic patient records, AI could be used for anticipating the risk of cardiovascular diseases like minor coronary syndrome, heart failure, which is quite reliable than conventional scales.

Pulmonary Medicine: Being accounted as a promising domain, the interpretation of pulmonary functions is crucial for developing one of the AI applications. Many research studies have shown how AI-based software is more reliable for providing accurate explanations and assisting in the form of decision support tools while translating outcomes from pulmonary functions tests.

Gastroenterology: The pursuit of gastroenterology advantages to massive applications in AI, especially in clinical settings. Gastroenterologists also deploy convolutional neural networks(CNN) to transform patients' images from endoscopy and ultrasound and identify irregular structures. Moreover, AI is used to cure gastroesophageal reflux disease, atrophic gastritis, and many more diseases.

Nephrology: Another unique AI application can be used to configure clinical nephrology settings, like predicting the dissolution of glomerular filtration rate in patients with kidney diseases and other similar diseases.
Some additional applications where AI algorithms can be implemented in diagnosing cancer in computational histopathology can be achieved with good accuracy and provide pathologists extra time to focus on practical approaches, as explained by Frontiers.
Possible Limitations of AI in Medicine
Below are the specific limitation of applying Artificial Intelligence in medicine;
AI algorithms are not always used by doctors to treat patients; in some cases, computationalists are also required to learn about medicine, and clinicians need to know about the function of specific algorithms.

We have seen almighty applications of AI in medicine. It is beneficial in diagnosing and elementary clinical tasks, but it is much harder to think of automated brain surgeries.

Since many of the algorithms are incredibly intricate, it sometimes becomes tough to get interference from the input medical data and deconvolute mathematics behind it.

Researchers, organizations, and administrators may be reluctant to expose their proprietary methods publicly, at the risk of falling money by seizing their ideas adopted and sustained by others.

Many times AI algorithms may encounter obstacles in attaining the support and approval of patients.
In the last, we can say that the demand for Artificial Intelligence with expertise is high and expanding exponentially for assisting doctors, anticipating health conditions and possibilities of survival of patients, managing the loudest issues in modern medicine, etc.
However, experts are consistently investing efforts in providing more enhanced AI models in various fields; many organizations set the goal to endorse the medical field while embracing AI.