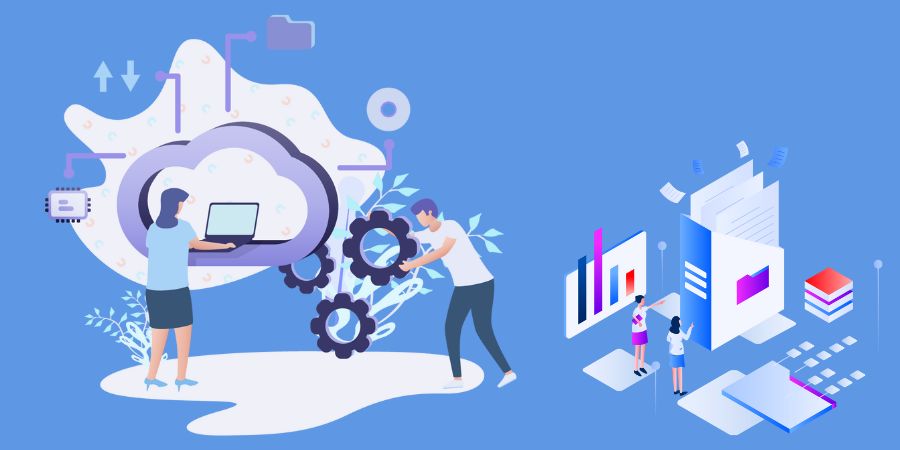 "Today, the cloud underpins most new technological disruptions… and has proven itself during times of uncertainty with its resiliency, scalability, flexibility, and speed."– Gartner.
The best cloud computing services enable businesses to undergo a digital transformation for productivity boosts and lower expenses. Cloud computing modernized businesses through IaaS, PaaS, and SaaS, allowing enterprises to build virtualized IT infrastructure.
Furthermore, enterprises can provide various cloud services via managed cloud providers to ensure maximum efficiency and cost-effectiveness while limiting vendor lock-in.
With cloud services being delivered via software platforms and virtualized networks, it's convenient to access and decipher data for analytics and business intelligence. They offer easy monitoring through cloud orchestration and the simple processing of log files via cloud logging services. As a result, IT infrastructure can be maintained and patched easily.
67% of enterprise infrastructure is cloud-based. And with a 21% CAGR, the cloud market is expected to reach $223.98 billion in revenue by 2028.
This article entails the top seven cloud service providers in the market who can reduce the complexity of a multi-cloud environment while providing scalability, flexibility, and agility to the system.
Top Cloud Service Providers
1. Amazon Web Services (AWS)
AWS is the public cloud computing behemoth that has substantially established an extensive infrastructure offering the best possible cloud services.
AWS provides a wide range of IaaS and PaaS services, including Elastic Compute Cloud (EC2), Elastic Beanstalk, Elastic Block Store (EBS), Simple Storage Service (S3), Glacier storage, DynamoDB NoSQL database, and Relational Database Service (RDS).
With incredible tools and services for development, networking, data processing, and management, AWS offers a go-to cloud service that provides seamless integration with the best tools and services available today.
AWS provides the ideal combination of flexibility, resources, tools, security, and agility making its cloud platform remarkable. For organizations, AWS provides significant resource scalability at a low cost. This enables businesses the required flexibility and resilience to remain competitive.
The most significant disadvantage of AWS is that it is not open-source and has the limited control that Amazon's internal management created.
2. Google Cloud Platform (GCP)
GCP competes with AWS in each area of the public cloud. Due to the global presence of its Android system, the company successfully converted users to its cloud system via their phones and tablets. For example, users can sync phones with other devices such as tablets and PCs while using their Chrome web browser.
GCP platform includes multiple well-developed and dependable tools, including Compute Engine, App Engine, Container Engine, Cloud Storage, and BigQuery. With reliable and fast worldwide internet and remote storage capability such as Google Drive, smartphone storage space's most significant issue has disappeared.
Indeed, It is a beautiful platform that provides excellent tools and services at lower pricing than Amazon. GCP is a formidable competitor to AWS and the other major companies.
3. Microsoft Azure
Microsoft provides its customers with a broad range of IaaS, PaaS, and SaaS services. The company deals in Windows operating system and has moved to the smartphone suite to establish a significant position in the cloud market. The company has successfully integrated its flagship product, Office365, into the cloud, ensuring a solid future revenue stream.
With a strong base of the Windows operating system and its active users, the company has enabled users to avail of their cloud services strategically.
Furthermore, the emergence of Windows 10 has enticed consumers to use Microsoft's cloud services, including the OneDrive cloud storage platform. While PC users are declining, Microsoft continuously upgrades features to convince users to utilize its cloud-based services and products. The company has built partnerships with large firms, including HPE, Adobe, SAP, and Cisco, with the Windows operating system.
Despite being widely employed by the US government and multiple large enterprises, the biggest complaint of Microsoft Azure is its high cost. It lags behind critical cloud services in price, especially for small and medium-sized organizations.
4. IBM Cloud
IBM offers PaaS and SaaS cloud platforms. Its Bluemix development tool and the portfolio of sophisticated cloud SaaS management tools and services have turned the tables in the software development industry.
The IBM Cloud has distinct offerings that its competitors cannot now replicate. For example, the only major cloud vendor that promotes bare metal servers, specifically for enterprises that demand specific performance or security requirements.
IBM provides flexibility and customization options on a scale. However, it takes several hours to configure and deploy a customized server. To fortify its revenue stream, IBM provides seamless interaction with existing IBM architectures such as Power8 servers, a favorable incentive for users to employ IBM cloud services.
A relative combination of their strategy and the high cost of cloud services impede IBM's attractiveness to the medium to the large-sized commercial sector and limit their opportunity to reach the mass consumer market.
5. Oracle Cloud
Oracle provides an attractive range of IaaS, PaaS, and SaaS services. Its RightNow series of products are magnificent solutions, deliverable across many channels, supporting web, social, and customer care centers. This package includes access to live chat features, email assistance, case management, virtual assistants, and other relevant applications.
The company's Ravello tools are tremendous for the seamless transfer of virtual machines to the cloud. Oracle's PaaS offerings for data management, business analytics, and app development have attracted enormous consumers.
As Oracle's business strategy involves leveraging the small and personal business markets, their pay-per-use expenses are pretty low and effective with a strong customer service foundation.
6. VMware
When datacenters ruled IT, an undisputed top virtualization provider emerged to establish a foundational position in corporate IT. Now the data center began to shift to the cloud, VMware acted as an efficient and much-needed "bridge" between obsolete datacentres and the complexities of the cloud transition.
VMware is a powerful tool for enhancing a company's efficiency and performance. It enables businesses to upgrade system integration by providing a 360-degree overview and control of what is happening.
In the VMware portfolio, the virtual machine can co-exist with containers. Many businesses have invested in their on-premise infrastructure, so VMware is perfectly positioned to meet the need to shift workloads to the cloud. Its "vCenter Server" is a cloud system that helps you manage your virtual infrastructure by bringing assets under one roof.
7. Salesforce
As a SaaS titan, Salesforce has emerged as a leading CRM software provider with a comprehensive menu of cloud-based enterprise software ranging from marketing and commerce to integration.
After acquiring Tableau, Salesforce provides in-depth metrics for modern businesses that greatly emphasize data mining. Salesforce also offers an IT integrator that links apps, data, and devices with Mulesoft and is aimed to become an epicenter of a hyper-connected, cloud-based world.
Salesforce has the Einstein AI platform, an infant stage "smart CRM assistant" that helps customers to identify sales opportunities resulting in increased revenue.