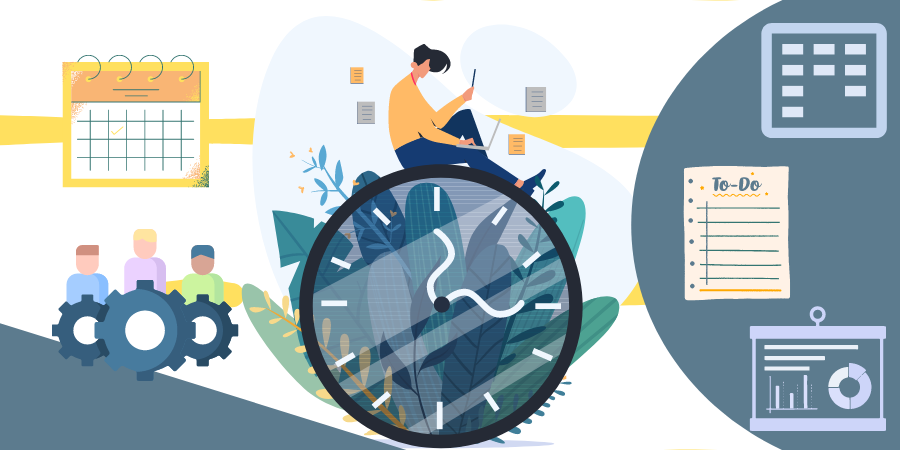 Since the COVID - 19 pandemic made our offices intrude on our homes, we have dealt with immense pressure to balance everything efficiently. Certain apps have become a prerequisite for better productivity in our cluttered workspace.
Here will be five apps that will change your work momentum to make tasks simpler and easily manageable for you in the upcoming year. We have gone through these apps to see how they work and what they offer. Increase your efficiency with the 5 best productivity apps of 2022. Let's get started.
TimeCaptis is one of the most popular solutions for managing all your tasks and tracking the time spent on different tasks. Handling clients and assigning tasks to different clients becomes a lot easier with this tool.
You can even prioritize tasks based on their importance. The built-in calendar allows you to set schedules for your upcoming tasks. You can maintain notes and to-do lists as well.
This tool is suitable for small to medium businesses to even large enterprises. It offers two subscription packages. The free subscription doesn't offer much, but that will be enough for small businesses or individual freelancers.
The Pro subscription offers a lot more, including team messaging, larger file storage, team dashboard, etc. This package will cost you $4 per month.
It can be beneficial in maintaining a time log for all your projects and overviewing the performance in the form of time charts. Boost your productivity in the upcoming year with TimeCaptis.
Any.do is a great to-do list app that allows you to create task lists along with all the necessary details. You can also integrate this with other apps to streamline your workflow. Though the desktop and web versions of the app struggle in a few cases, the mobile version is very smooth.
You can add tasks in chronological order. There are options to assign sub-tasks to parent tasks. The most intriguing feature of Any.do might be the Moment that you will find in the mobile app.
The Focus Mode lets you concentrate on your work without getting diverted to mobile phones. This feature enables you to decide on your listed tasks. You can either commit or defer to any task according to your preference.
Though there is a free version of the app, it is very restrictive. You can avail of the premium version, which costs $4.99 per person per month. The same rate applies when you use the premium version for a team account.
Todoist is arguably the best productivity app with its latest features. As this is a cloud-based service, you can see and modify your tasks from any device. Besides adding task lists, you can sort them by several factors.
You can also share or assign tasks to other users. Tasks can be seen in a 'board view', letting you easily organize your tasks. Todoist supports natural language input so that you can add schedules with short forms.
This app is so intelligent that it will ask permission from you to reschedule your overdue tasks. It will also adapt to your scheduling to make a suitable choice for customizing the deadlines.
Another great thing about this app is the productivity report. You will have a track of all of your tasks to assess your performance daily or weekly. The app will give you a score based on how successful you have become every day to complete scheduled tasks.
The premium subscription will cost $4 per month for individual accounts and $6 per person per month for business accounts.
When you just want to stay focused on your tasks without getting into complex scheduling, Toggl Track or more popularly known as Toggl, is the right solution. It has a straightforward and beginner-friendly user interface that will help you count those precious hours you spend working for different clients or projects.
Toggl can even detect your activity level and shut the timer if you are idle. This feature comes in handy when you forget to stop the timer after you are done. As this is a web app, you can run this on your browser.
You can also download the desktop or mobile version of the app for more convenience. Create projects, clients, or teams, whatever you wish. Track your billable hours with summarized or detailed reports.
The free plan of Toggl has generous features that will be great for individuals. The premium package costs $18 per person per month, which is more suitable for larger teams.
RescueTime can be one of the best solutions to measure your productivity throughout the day. Unlike other to-do apps, it tracks where you are spending your time and categorizes them to decide whether you are productive enough or getting distracted. Productivity Pulse score is a great way to understand your time-spending pattern. The app creates detailed reports with graphics to illustrate what you are spending time on clearly. You can also analyze when you are the most productive during the day. If you are idle for some time, the app will detect that and ask you why you are inactive when you come back. Blocking websites that distracts you during work is another excellent feature of this app. But this feature is limited to paid users only.
The free subscription is good enough for beginners or individuals. The premium version for individuals will cost $9 per month, and the team plan will cost $6 per person per month.
Conclusion
Spending time on productive things and being accountable to yourself is the key to success. But putting too much emphasis on tools to just track the time won't be a fruitful idea.
With the 5 best productivity apps of 2022, time tracking and task management will be much simpler. Focus on the tasks while these apps take care of the time.