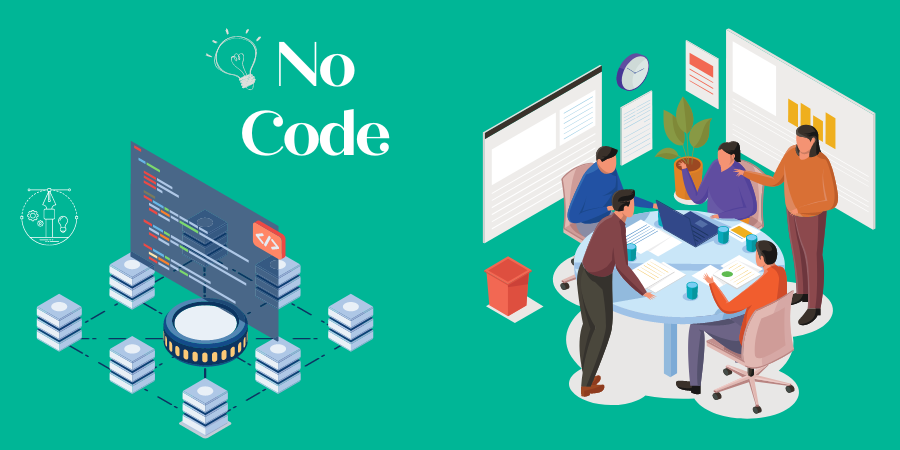 As businesses become increasingly digitalized, they must find new ways to improve efficiency and communication. Unfortunately, sending and receiving text messages is not the most efficient way to do either. That's where no code comes in. No code is a blockchain-based platform that allows businesses to communicate securely and process transactions without third-party involvement. No code offers several benefits for businesses, including increased efficiency, improved security, and decreased costs. If you're looking for a way to improve your business operations, no code is the platform for you.
What is No Code?
No code is a platform that allows small businesses and entrepreneurs to easily create, manage, and deploy digital products without coding knowledge. This platform makes it easy for business owners to get their products online quickly, efficiently, and with minimal costs.
What are the Benefits of No Code?
No Code is a new way to run your business powered by technology. No Code can be used to create an online presence, manage your finances, record your interactions with customers, and more. With No Code, you can be in control of your business and make it easier for yourself. There are plenty of reasons to ditch your coding skills and move to a more automated system. Here are four key benefits:
Speed up your Workflow: One of the significant benefits of adopting a no-code process is that it can speed up your workflow considerably. You can get tasks completed much more quickly without the need to enter data into various systems manually.

Reduce Errors and Glitches: As your system becomes more automated, there will be less chance of errors or glitches occurring. This will not only save you time and money, but it can also minimize the risk of losing important data or damaging equipment.

Reduce Stress Levels: Many people find coding difficult and stressful, which is why using a more automated system can be such a relief. By taking care of most of the work for you, you won't have to worry about pesky details like coding syntax or troubleshooting problems. This can allow you to focus on other aspects of your business that are important.

Increase Efficiency and Productivity: No code is needed when creating and executing business processes, as no code revolutionizes how businesses operate. Businesses can create automated processes that run without errors. Overall, eliminating code will increase efficiency and productivity in industries.
Importance of No Code
No code not only reduces the time and effort required to create and maintain websites, but it also dramatically improves the quality of websites. Gone are the days when businesses used outdated and difficult-to-use tools such as Microsoft Word or Adobe Photoshop. Today, powerful, user-friendly tools allow business owners to create high-quality websites with minimal effort.
One of the most important benefits of no code, businesses no longer waste time manually performing tasks such as adding content, creating links, or setting up forms. Thanks to no code, they can be easily automated using built-in features of modern web platforms. This saves money and results in a higher quality website overall.

Another benefit of no code is its flexibility which lets businesses customize their sites exactly how they want them. They can tailor their websites to reflect their specific needs and requirements without worrying about restrictions imposed by traditional software applications. This allows them to create sites that look and feel like their own unique brand identities.
How Does No Code Work?
No code is a digital marketing strategy that replaces traditional tactics like website development, email marketing, or social media campaigns with a software platform. This approach allows businesses to manage their digital marketing in one place and avoid wasting time and resources on tasks that are better left to an expert.
The platform's artificial intelligence helps businesses analyze their data and performance across channels, so they can make informed decisions about where to focus their efforts. Moreover, the platform offers tools for creating and managing customer relationships and tracking brand awareness and performance.
According to a study by HubSpot, companies that adopted No Code had a 97% increase in leads compared to those that used traditional methods. In addition, companies that use No Code reported significantly lower costs associated with marketing activities like website development or email marketing.
Conclusion
Businesses are evolving, and the days of needing a developer on staff to create custom code are slowly but surely coming to an end. No code is revolutionizing how businesses operate by providing users with pre-made templates and building blocks that can be customized according to their specific needs. This not only saves time for businesses, but it also allows them to focus more on their business goals and less on the technical details. No code is worth considering if you're ready to make your business move toward the future without requiring a developer's help!