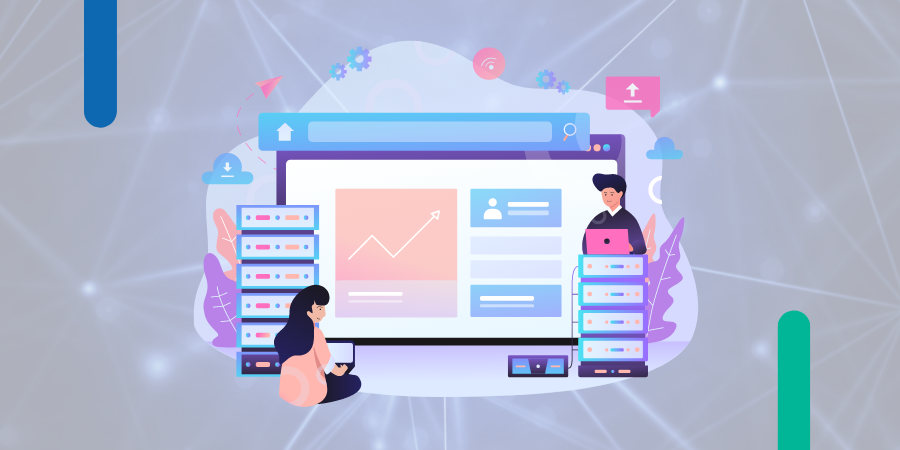 What Is Web Hosting?
Web hosting is the service of storing all website files, images, videos, and other data to be available publicly over the world wide web. Hosting websites means that you give some companies your business data temporarily in return for some fee. A web hosting service provider is a company that provides the technology and services necessary to display a website or website on the Internet.
This article will detail the various types of web hosting to choose from and how they can help you grow your site.
Types of Hosting
There are many different types of hosting available to choose from: Shared, VPS or Dedicated hosting, so it's best to know your needs before you sign up for something. Shared hosting is becoming less and less popular but is still the least expensive type of hosting. Here, multiple websites share the same server space and resources. It requires absolutely no configuration on your part and features a lot of benefits: it's quick, simple, and relatively inexpensive. Depending on the service you choose, you can get a website up in just a few minutes. There are two types of shared hosting: managed and unmanaged. Managed hosting is when an outside company like GoDaddy or HostGator does all the work for you- they update software, monitor usage, set up email accounts, etc., while Unmanaged hosting means that you will need to do this.
When selecting your hosting server and other services, ensure they offer the typical essential benefits such as strong firewall protection, backup, domain registration, technical support, email services, tools and applications for building websites.
Many hosting providers have managed WordPress plans that offer all the convenient features you need for your site in addition to hosting it on one of their servers. Since your relationship with your hosting provider is long-term, they must be able to give you everything you need about your account, your server and WordPress itself.
There is another type of hosting called VPS. A virtual private server is a dedicated computer, which means that you have the entire operating system and all of its resources to yourself. In contrast, a shared hosting environment means that you share the server with other individuals. The main difference between virtual private servers and shared hosting is the infrastructure. Virtual private servers are more expensive, but they offer more resources, whereas shared hosting plans are cheaper but have fewer resources.
AWS Web Hosting
If you are a company looking for the best hosting solution for your site, Amazon AWS is a good choice. Cloud computing has become the standard method for creating scalable and manageable web applications and services, and Amazon Web Services (AWS) is the leader. Amazon Web Services is a hosting web service for building and making websites available to the public. It offers various web hosting services that vary in price and features, including AWS Free Tier. For website hosting, you can create an essential website on AWS Amplified with Amazon S3, a dynamic website with Amazon LightSail, or a corporate page on Amazon EC2.
One of the advantages of AWS hosting is that it delivers a secure, reliable and robust environment for your website and applications. Another advantage is that it allows for easy deployment and maintenance. AWS hosting provides an ideal platform for developers as they can focus more on the business
cPanel
cPanel, previously called "Control Panel", is a web hosting control panel that allows users to manage their domains, websites, email accounts, databases, and other services on their web hosting account. It offers both Linux-based and Windows-based web hosting control panels. In short, cPanel provides all the navigation, buttons, links, and graphics needed to make hosting and file management human and understandable. With cPanel, you do not need any technical knowledge to manage your website or server. Many of the best VPS hosting providers combine cPanel with WHM (WebHost Manager) solutions to run the entire server. While cPanel is restricted to managing a single hosting account, WHM allows you to manage an entire server at once.
Domain Name
While your web host is the actual location of your website files, you also need a domain name to allow users to access your website. When Internet users want to view your website, they must enter your website address (domain) in their browser. The only difference is that when a user enters your website in their browser's address bar, it is sent to your website, and your hosting provider provides the resources that you have stored to display them on the requested page.
A domain name has three parts: Third-level domain, second-level domain, and top-level domain.
When you buy a domain name, you will see you are given many options to choose from like .com, .org, .net etc. Each of them has its uses. It depends on you which one to choose. For example: .com is for commercial web pages, .org is for non-profit organization etc.
How to Choose the Best Hosting Service?
Shared hosting is an affordable option that provides many features for individuals or small businesses on a tight budget. Dedicated hosting might be a better choice for those with high demand. Virtual server hosting provides you with a server that is more powerful than any other type of hosting.
As you prepare to build and launch your next website, don't just write off the ability to host it yourself. Spend some time on your own to set up your own server to see if self-hosting is right for you. You can perform the initial server setup based on a set of standards within minutes. You can set up a DNS zone that points to your domain, install a software stack and create a virtual host.