Creating More FTP Accounts with cPanel on Linux
---
Creating More FTP Accounts with cPanel on Linux
This article provides the detailed information on how you can create more FTP accounts with your Linux cloud control panel.
An FTP account is used for uploading and managing files on your website and is automatically created in cPanel when you sign up for hosting at Batoi. You can use your cPanel username and password to log in to it. You can create new FTP accounts to give access to other users without giving them your cPanel login credentials. To do so follow the steps as mentioned below.
Type the cPanel access details received from 'Batoi Support' in your browser and press 'Enter'. You will find the login screen for your hosting control panel. Type your control panel 'Username' and 'Password' of your hosting to login to the home page.
Note: To know more on how to access hosting control panel follow the steps in our help article.
After successful login you will find the home page as shown in Figure 1. In the 'Files' section, click 'FTP Accounts'. The system will then take you to the FTP account creation page.

In the Login field, type the name of the FTP user. A full FTP username will always be formatted as 'xyz@yourdomain name.tld'. You cannot create an FTP account without your domain name in it. After entering the desired FTP username click the 'Password Generator' button and the system will generate a password for you which will be used to authenticate this FTP account. Copy the password in a text file for future reference. Alternatively, you can also manually enter a password as per your requirement. Retype the password in the 'Password (Again)' text box. Then click the 'Create FTP Account' button and the system will create a new FTP account for you.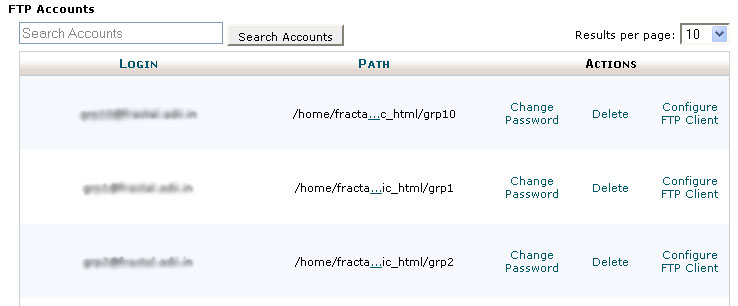 After the creation of the account, the account creation page will show the created account in a tabular format as shown in Figure 3. From here you can also change the password for the FTP account or can even delete a particular FTP account as per your requirement.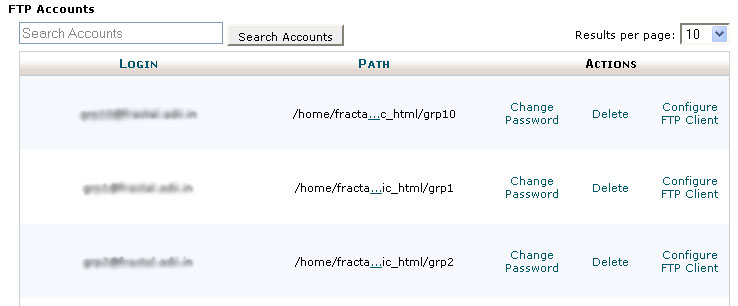 ---