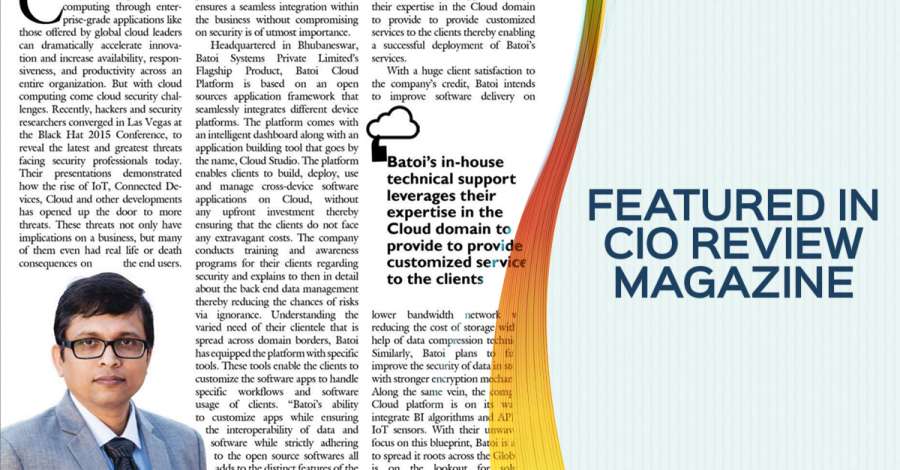 Batoi has been featured in October 2015, Cloud Special issue of the CIO Review Magazine that has profiled the 20 Most Promising Cloud Solution Providers.
Batoi is excited to have been included in this list this year. Noted with the tagline of Making Batoi Cloud Platform Effective to Clients across Borders via Cloud Studio, the article discusses how Batoi Cloud Platform, based on an open-source application framework, seamlessly integrates different device platforms and enables the end-users to build, deploy, use and manage cross-device software applications on cloud using the app-building tool called Cloud Studio.
In an interview that followed the recognition, CIO Review spoke with Batoi's Founder Director and CEO, Mr Ashwini Rath, to gain some insider insights on implementing cloud computing with Batoi. During the interview, Mr Rath discussed that today organisations are looking for a simple, but robust, scalable, reliable, and secured cloud platforms managed by the vendor enabling IT, to manage the infrastructure of the organisations along with the applications that are used for productivity and compliance. However, in addition to this, the ability of customisability of the apps on Batoi Cloud Platform ensuring the interoperability of data and software while strictly adhering to the open-source software enables Batoi to stand out in the crowd.
Find the complete insights on Batoi in CIO Review and check out more information on Batoi's cloud offerings that can benefit your organisation.