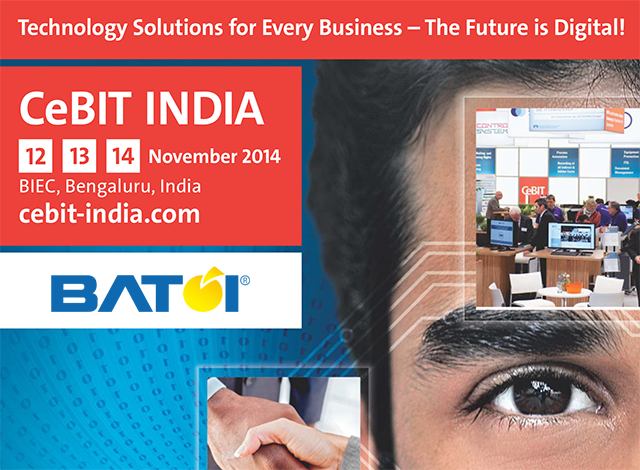 After three exciting days CeBIT India 2014 closed its doors on 16 November. CeBIT India 2014 has been thriving with excitement and this year's participation was a complete success for Batoi. This success is attributable to the new products that were demonstrated at its exhibition stall in Hall No. 2, Stall No. SU 3 that received great interest and enthusiasm from the many guests and visitors.
There was a continual flow of visitors to our stall throughout the course of the 3-day exhibition. It might be also worth mentioning that we were present in Hall No.2, where you traditionally find all the large IT players. Over at our stall, visitors flowed in and out searching for information on the latest news, trends, and innovative ideas.
Many international visitors also used the opportunity to interact with us and learn more about our offerings. Representatives from Batoi gladly answered and demonstrated the capabilities of what our new product line has to offer.
The attendees showed an overall inclination and interest in Cloud, Big Data, Mobile, and Social Business this year. Team Batoi's deep expertise and rich experience attracted top leaders, industry experts, and several enterprise decision-makers to show genuine interest towards engaging in Batoi's Cloud and Big Data offerings. Technical issues as well as questions about product features and future development plans were discussed. In fact, many visitors had secured a slot for a personal discussion before the trade fair, wanting to discuss their questions in detail.
Apart from this, Batoi Framework - our open source PHP Application Framework was appreciated by a large, vibrant ecosystem of major technology vendors, innovative start-ups, and individual developers.
Other aspects of the CeBIT India 2014 that was also very successful for us was generating a large volume of interest in our products by channel partners and App developers that opened the door to many new business partnership possibilities for Batoi.
It was a great opportunity to network with many key contacts, enjoy conversations with interested visitors from different places and receive feedback on our product and solutions. Several leads have been generated, which is an extremely positive result and higher than what we had set as objectives for the show. Existing Batoi customers also visited the fair, offering yet another opportunity to strengthen partnerships and improve our knowledge of customer needs and their business goals. - Mr Ashwini Rath, Director and CEO of Batoi