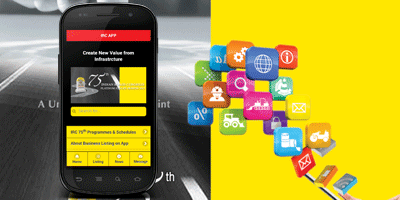 The Indian Roads Congress (IRC) is the apex body in India for the formulation of design and construction guidelines, codes, and standards for construction of highways, bridges, flyovers in India. It holds Annual Session every year to provide an opportunity for the Engineers, Consultants, Architects, Construction Agencies, and Manufacturers to interact with one another and share knowledge, demonstrates products, equipment, and machineries and explore and promote B2B, B2G and B2C business on the entire range of subjects dealing with construction and maintenance.
To enable stakeholders involved in constructions and operations of infrastructure business better interact with each other and avail precise information in real-time, IRC has taken a decisive step in presenting a unique App for Smartphones and Tabs on the eve of its 75th Annual Session.
The App has been developed by Batoi. Batoi has also delivered a fully responsive website for the App that works across both desktop and mobile devices. Apart from this Batoi will also be managing the digital marketing strategy as well as execution in terms of social media, online advertising, marketing, and other online activities for the digital promotion of the event. Batoi is excited to be working with IRC and to take the event forward in the digital space.
We hope you enjoy this year's event. Would you like to book an appointment with us? We are happy to arrange appointments for you for a business discussion in advance. Book an appointment with us at IRC Annual Session.