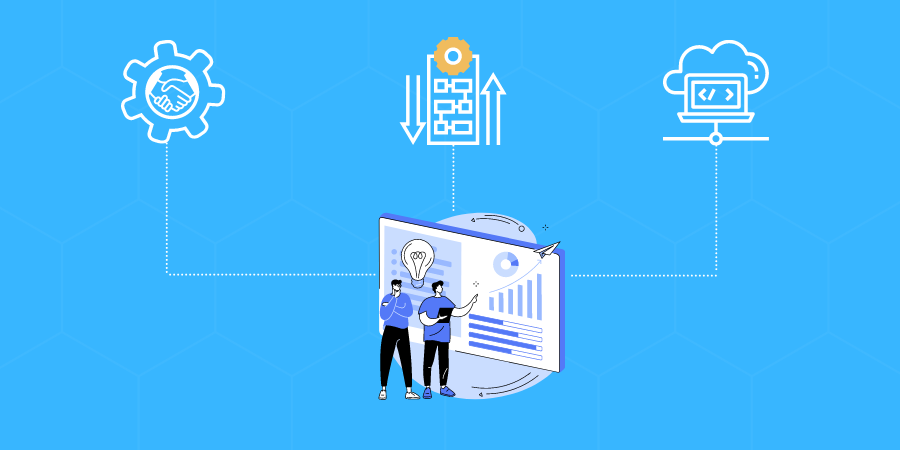 We live in a world where consumers now expect excellent customer experiences. Customer experience is currently the top priority for most businesses for the next five years, beating out pricing and product. But customer experience starts inside the company, with employee experiences and the company's tools to make things happen. It all starts with digital transformation.
It's fair to say there are few things companies are more invested in than digital transformation today. Worldwide spending on digital transformation technologies and services stood at 0.96 trillion in 2017 but is expected to rise to an eye-watering 2.39 trillion by 2024.
But what are the technologies and services paving the way for a more technologically advanced future? And what tools have the most significant impact on a company's success? Let's take a look.
CRM Tools
It should come as no surprise that customer service is a vital function within any thriving business. And today, customers have higher expectations than ever before, and they want to be able to contact customer service at any time of day and through any channel. According to one study by esteemed customer experience company Genesys, a whopping 35% of customers use more than four channels to contact customer service. Put simply, customer service is now multi-channel and 24/7.
Companies that want to deepen their customer relationships and offer a range of communication channels, like phone, email, social media, SMS, live chat, and more, need robust CRM software. Unfortunately, today, many companies are still working with antiquated CRM platforms that don't help them get the most out of their customer relationships.
So when companies look to upgrade their CRM as part of a digital transformation initiative, what sorts of features should they be looking for? These are the must-haves:
Integration with social media and social listening tools - Social media tools can be integrated with the CRM so that agents can respond to customer queries from one place. Additionally, social listening tools allow the company to keep track of what customers really think about current product lines, customer service interactions, and brand messaging.

Artificial intelligence - The CRM should gather customer behavior insights like which customer segments are most likely to buy which products, whether/how much sales went up after a recent marketing campaign, which customers spend the most money per order, and so on.

Mobile access - Sales reps need to be just as effective outside the office as inside, handling deals from any device and location.

Team-wide communication - Sales reps and customer service agents must easily communicate and share information with other team members without having to open multiple apps.

User-friendliness - One of the primary pain points of CRMs is how difficult they are to use. If using a CRM isn't intuitive, employees work slower and miss vital tasks.
Workflow Management and Automation
At its core, a workflow sets out steps that need to be completed as part of a broader business goal. We wrote workflows on whiteboards and paper in the past, and while this worked well enough, it was less than ideal for obvious reasons. For example, someone can wipe a whiteboard, lose a piece of paper, or accidentally skip over a step in the workflow. In response to this problem, digital workflows were invented. Digital workflows automate the steps in a process, whether internal communications, financial auditing, change release, etc.
Benefits of digital workflow solutions:
Workflows are stored on hardware, so they can't be lost.

It becomes easier to amend workflows as business goals change.

Digital workflows reduce pain points by streamlining work tasks. For example, once one task is complete, the next task becomes available to complete, and the employee in charge of acting on the task can be notified.
Low-Code Platforms
One of the major problems companies face in the 2020s is a lack of tech talent. Delivering excellent digital customer experiences requires the latest software tools and the IT staff to manage them. However, this is easier said than done in a world where the demand for IT talent far outweighs skilled employees.
Luckily, low-code platforms provide the answer. Low-code is an approach to software development that reduces the need for advanced coding skills. Essentially, low-code platforms are designed so that employees with little to no coding experience can build apps. This is done through drag-and-drop interfaces, reusable code templates, development kits, and process modeling. The result? Companies can fast-track their digital transformation efforts and continue to make giant leaps forward even without a large team of skilled software developers.