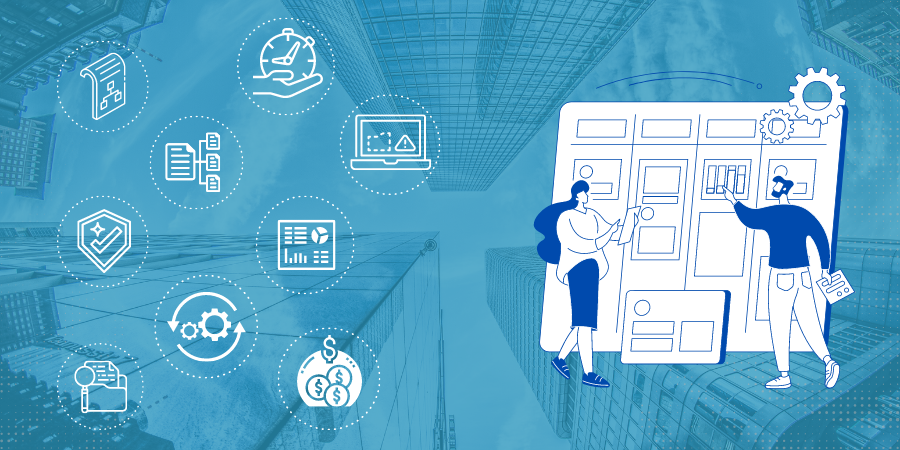 Is your business still using legacy systems? Cumbersome workflows, tedious manual tasks, communication breakdowns, and other similar issues will drag down your company's progress irrespective of the innovative idea on which your company is built. Today, the enterprise work culture is rapidly moving fast as customers are getting accustomed to quick delivery and service. Enterprise automation has become the primary fuel for all businesses, whether a budding startup or a multinational firm. This article is a quick walkthrough of why your enterprise needs workflow automation.
What Is Enterprise Workflow Automation?
We can define enterprise workflow automation as strategizing and implementing the automation of various work processes based on business rules. These solutions automate human tasks - the sequence of operations between multiple employees based on pre-defined business rules. Workflow automation helps enterprises enhance productivity, efficiency, accuracy and accountability in business operation.
Through enterprise workflow automation systems, an organization can track hundreds of processes. Different departments or teams can collaborate and keep track of all the operations to keep the organization moving forward.
Need for Enterprise Workflow Automation
The reasons and benefits of leveraging enterprise workflow automation are endless. With the integration of workflow automation software, organizations can witness significant growth and experience benefits in several aspects of day-to-day work. Here are some of the benefits companies will experience by implementing enterprise workflow automation solutions.
1. Saving Precious Time
As we all know, automation reduces the time taken by unnecessary, tedious, and untidy workflow processes. Inefficient day-to-day operations also waste time for every employee and the organization. Employees often consume a lot of their work hours, sorting and uncovering redundant and monotonous work. According to Gartner's estimation, an organization can fix more than 30 percent of manual accounting rework before a financial close using automation. Other similar trends also show significant upliftment in the production at a reasonable time. Almost all organizations, both large or small, leverage workflow automation to overcome monotonous tasks, like manual task assigning, data entry, etc., to recalibrate their focus on innovative projects and plans to grow the company.
2. Cost Saving
Saving money is another critical aspect of every business. According to research by Gartner, almost 43 percent of business leaders gain the level of savings they set out in their entrepreneurship quest through enterprise automation systems. Automation in proper workflow management reduces unnecessary use of employees, methods, and hence, reduces cost from different dimensions of enterprise work. Legacy systems and methodologies also cost a lot for the enterprise as those applications are not connected to one another. Modern enterprise workflow automation solutions can weave multiple applications together and streamline the workflow, enabling companies to evade legacy solutions while reducing cost.
3. Analytics Dashboard
Today, most modern workflow automation software comes with analytics. It makes tracking of the operations, files, and everyday tasks easier. The paperless arrangement with a dashboard to witness an all-in-one screen, ushered in by workflow automation, makes it easier to supervise analytics. The admin, manager, executives can track which work got completed or delayed; and discover how long it will take to complete. The automation engine in such solutions will render analytics to provide actionable insight on all these predictions and workflow analysis.
4. Compliance and Automated Audit
Staying aligned with regulations and compliances has become a challenge for enterprises running on legacy systems. Enterprise workflow automation systems can keep your organization compliant with industry regulations by providing practical audit trails. The workflow automation systems allow the administrators to select/enable all necessary compliance that the organization follows. The automation tools help manage audits regularly to preserve the organization's workflow under lawful compliance.
5. No More Data Loss
Another important reason your organization should leverage workflow automation is data backup. It is essential to maintain data redundancy on all aspects of the operation, including emails, documents, and other digital assets. All modern enterprise workflow automation systems leverage cloud technology to backup data. It makes the entire workflow seamless and more reliable.
6. Safety against Information Leakage
Security has become a grave concern for every organization. Modern enterprise workflow solutions come with various security layers, encryption algorithms, and other hashing techniques to store all the data at rest or in transit. Hackers cannot gain access to an organization's sensitive data. In case of accidental leakage, all the workflow information, and user data remain encrypted. The automation code behind such workflow systems tracks any malicious activities or patterns and blocks cybercriminals from gaining access.
Conclusion
With a full-fledged workflow automation solution, organizations can achieve their goals with higher productivity, better decision-making, and least wasteful expenditure. Such solutions can be available on the Cloud and render all the benefits an organization needs to thrive at its full potential. Batoi Space is one such all-in-one workflow automation and management solution.