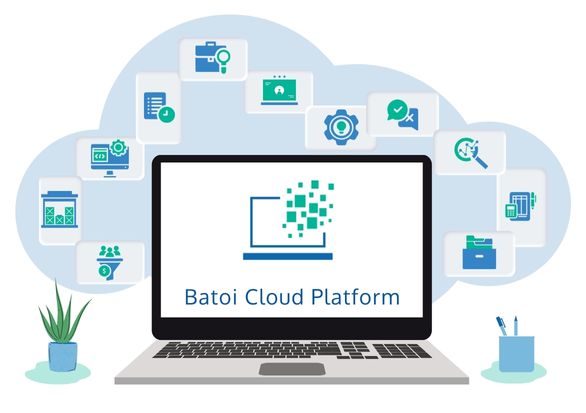 Benefits and Features
Cloud Apps for Business
Turnkey business applications to manage workflows and digital publishing. Make productivity better with Batoi's collaboration and communication tools.
Workspace, Sites and API
An integrated portal for using all apps and dedicated subdomains for websites (can be mapped with customer's domain name). ReST API and role-based access control.
Secured Infrastructure
Multi-tier security cover along with continual monitoring and regular upgrades with latest tools and techniques makes Batoi's digital infrastructure robust and secured.
OpenStudio for Custom Apps
A set of tools for building, deploying and managing software applications, websites, and e-commerce storefronts at scale and on the Cloud.
Multiple Customer Engagement Models
While Batoi Apps can be availed in
SaaS
model, large enterprises and governments may also avail software for private deployment.
Open Source Framework
The underlying software architecture of all software applications from Batoi is the native Open Source Framework - fully-documented and fast evolving.
Frequently Asked Questions
Yes. Creating an account at Batoi is free. Charges will apply only if you avail any of the paid services of Batoi.
No. Batoi offers cloud services that are essentially device independent. You can avail them directly on cloud from any device, and without any software installation hassles.
You need not have any programming skills to operate Batoi. It offers intuitive user interface and simple development prescriptions to build and manage Apps without hassles and any significant learning curve without any knowledge of programming. Batoi takes care of all the complexities during creating and managing your Apps.
Batoi handles client data with great care with the highest standards of security. Please review our dedicated page about our certifications on security and quality.
Yes. As mentioned earlier, Batoi offers cloud services which essentially are device independent. You can avail them directly from the cloud from any device, mobile, tablet, Desktop or laptop.
Batoi provides comprehensive documentation for all Batoi services and tools along with quick usage videos for your assistance.

Besides, Batoi also provides 24/7 online support. You can reach us at any time through email or phone.
Users can pay online through credit card or PayPal. Batoi does not store any credit card details; subscribers get 30 days to pay the bill. The billing period is always counted from the day you start your subscription; and it is monthly. Annual subscription plan is also available. You can upgrade your Private Cloud anytime; and you will be billed from that day onwards.
We do not store your credit card or debit card details on our server. These are stored at the Payment Gateway side.

We have chosen the leading payment gateways of the world for your payment processing.